If you've read this series (original or spin-off) you know two things, these are super good and super addicting.
They wrench at your heart strings. They are emotional on so many levels and they play with your mind..constantly.
In short, they are unlike any other series out there and I adore them because of it.
I've been a fan since I first picked them up and am always left wanting more. The latest, The Reckoning of Noah Shaw is no different.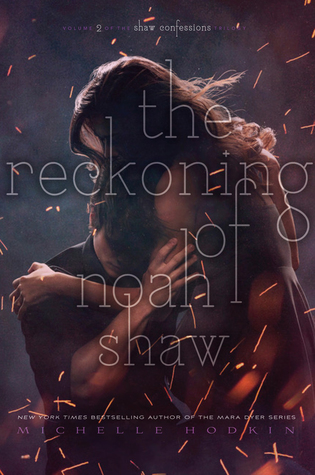 Title: The Reckoning of Noah Shaw
Author: Michelle Hodkin
Series: Book Two in the Shaw Confessions Trilogy
Published By: Simon & Schuster (November 13, 2018)
Genre: YA Fantasy
Source: ARC Provided by the Publisher (in exchange for an honest review)
Book Description:
Noah Shaw confesses all in this second novel of a chilling new companion series to Michelle Hodkin's New York Times bestselling Mara Dyer trilogy!
Noah Shaw doesn't think he needs his father's inheritance.
Noah believes there's something off about the suicides in his visions.
Noah is convinced that he still knows the real Mara Dyer.
Everyone thought the nightmare had ended with Mara Dyer's memoirs, but it was only the beginning. As old skeletons are laid bare, alliances will be tested, hearts will be broken, and no one will be left unscarred.
About the Author:
Michelle Hodkin is the author of the Mara Dyer Trilogy, which was a New York Times, USA Today, and Publishers Weekly bestselling series. The trilogy, which includes The Unbecoming of Mara Dyer, The Evolution of Mara Dyer, and The Retribution of Mara Dyer, was described as "haunting and dreamlike" by Cassandra Clare and "darkly funny, deliciously creepy, and genuinely thoughtful" by Veronica Roth. Lev Grossman has called Hodkin "One of the greatest talents in Young Adult fiction." The novels were praised by Romantic Times, MTV's Hollywood Crush, and the Los Angeles Times, and books from the series appeared on several state reading lists. Additionally, The Retribution of Mara Dyer was selected as one of TIME.com's Top 10 YA Books of 2014. Hodkin grew up in Florida, went to college in New York, and studied law in Michigan, before finally settling in Brooklyn last year.
This series knows how to mess with your emotions. Get your heart racing and always, always leave you wanting more.
After both the killer cliffhanger and heartbreaking ending of book one, I was left anxious to get my hands on book two. I just had to know that that wasn't how it all ended. That that wasn't the end period between so many beloved characters.
Noah and Mara are explosive together, sometimes in the very worst ways possible but no, it couldn't end with them at odds with each other, it just couldn't.
This book. So many feels. So many emotions. So many revelations, betrayals and even more mysteries.
Literally, it was hard to wrap my mind around them sometimes. There was just so much going on in the best way possible.
I don't even know what else to say without giving anything away but I will say this, it's a must read. It's beautifully done. It's mysterious, it's mind blowing and so very much happens and is reveled and exposed that fans of the series will not want to miss out on it. In fact, their only regret will be that book three isn't here already.
Hodkins once again blows us away with the intricately laid out mystery that is Mara, Noah, and gang. The conspiracies, the danger, the gifts, the plans, the destruction. All so cleverly done and executed. I can't wait for more.
Blog Tour Schedule:
Blog Tour Schedule November 5 – The Lovely Books
November 6 – Too Fond of Books
November 7 – Downright Dystopian
November 8 – Pure Imagination
November 9 – The Book Loving Nut
November 10 – a GREAT Read
November 11 – The Eater of Books!
November 12 – My Guilty Obsession
November 13 – Arctic Books
November 14 – A Gingerly Review
November 15 – Ex Libris Kate
November 16 – Girl in the Pages