I'm so excited about this blog tour. Truly K.A. Tucker has become one of my auto-buy authors because all her stories are so heartfelt and real and just so enjoyable and her latest is no exception. If you haven't tried her yet, you are missing out. I can't recommend her enough.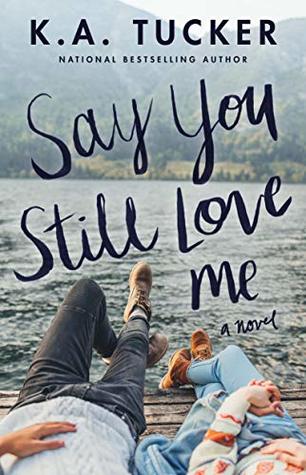 Title: Say You Still Love Me
Author: K.A. Tucker
Series: Stand Alone
Genre: Contemporary
Published By: Atria (August 6, 2019)
Source: ARC provided by the publisher in exchange for an honest review
Book Description:
Life is a mixed bag for Piper Calloway.
On the one hand, she's a twenty-nine-year-old VP at her dad's multi-billion-dollar real estate development firm, and living the high single life with her two best friends in a swanky downtown penthouse. On the other hand, she's considered a pair of sexy legs in a male-dominated world and constantly has to prove her worth. Plus, she's stuck seeing her narcissistic ex-fiancé—a fellow VP—on the other side of her glass office wall every day.
Things get exponentially more complicated for Piper when she runs into Kyle Miller—the handsome new security guard at Calloway Group Industries, and coincidentally the first love of her life.
The guy she hasn't seen or heard from since they were summer camp counselors together. The guy from the wrong side of the tracks. The guy who apparently doesn't even remember her name.
Piper may be a high-powered businesswoman now, but she soon realizes that her schoolgirl crush is not only alive but stronger than ever, and crippling her concentration. What's more, despite Kyle's distant attitude, she's convinced their reunion isn't at all coincidental, and that his feelings for her still run deep. And she's determined to make him admit to them, no matter the consequences.
About the Author:
K.A. Tucker writes captivating stories with an edge.
She is the USA Today bestselling author of 17 books, including the Causal Enchantment, Ten Tiny Breaths and Burying Water series, He Will Be My Ruin, Until It Fades, Keep Her Safe, and The Simple Wild.
Her books have been featured in national publications including USA Today, Globe & Mail, Suspense Magazine, First for Women, and Publisher's Weekly. She has been nominated for the Goodreads Choice Award for Best Romance 2013 for TEN TINY BREATHS and Best Romance 2018 for THE SIMPLE WILD. Her novels have been translated into 16 languages.
K.A. Tucker currently resides in a quaint town outside of Toronto with her family.
K.A. Tucker has this amazing ability to bring all her characters to life. Until they feel like real people that you would know and love and want to be friends with. Characters that you feel for on a real emotional level. People you can relate to and most of all, want the very best for.
Her latest release Say You Still Love Me, is just as spectacular, emotional and moving as all her previous novels. With characters that you instantly like, love and most of all, connect with.
I devoured this and was rooting for Piper and Kyle the whole time. Caught up in the then and the now and loving every heart wrenching, heart warming second of it.
I ate it up and even though I never wanted it to end, I was completely satisfied with the very real feeling ending. It wasn't all rainbows and sunshine for these two and so their story needed to end realistically and I am happy to say that while it was a happy ending, it was also a very believable one and I love that most about her stories. Things aren't always perfect and you can see that all her couples are going to have to work hard to make things work but you also know that they will and I truly do adore that about her stories.
This was another outstanding read that I can't recommend enough for both fans and new readers alike.