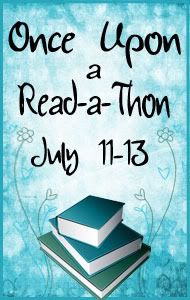 As some of you may or may not know this Monday starts the annual Once Upon a Read-a-Thon.
Three whole days that you devote to reading as much as you possibly can.
I am so excited to be participating in it this year!
And although I do plan on reading as much as I possibly can, this read-a-thon isn't necessarily about how many books I can read over the next three days but more about what I read for the next three days.
I do a lot of reviews and while I enjoy most of the books that I review, it sometimes means that all those other books I want to read get put on the back burner and I either forget about them or they just get lost in my never ending TBR (to be read) pile.
So, for the next three days (starting the 11th) I plan on reading all those books (okay, maybe not all of them, I have a huge pile!) that have been put on that back burner. The short ones, the funny ones, the sappy ones, the strange ones, the bizarre ones, well you get the idea. I am going to just read, well, for me. No worrying about reviews or deadlines or whatever. Just uninhabited reading for the pure pleasure of it, for better or for worse.
And is it crazy of me that I am thrilled to be doing this? Excited even? Maybe but, who cares?!
So in the theme of that, grab those books that are piling up and just calling out to you to be read. Grab some water, a comfy blanket, a sunny spot outside or a shady space beneath a tree and join me in reading. Reading for the pure unadulterated fun of it.