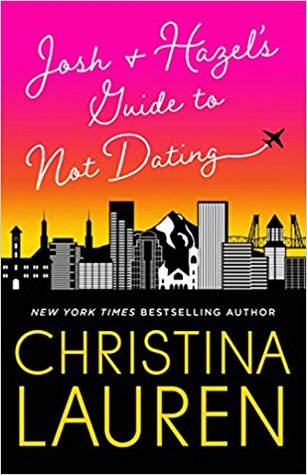 Title: Josh and Hazel's Guide to Not Dating
Author: Christina Lauren
Series: Stand Alone
Genre: Contemporary
Published By: Gallery Books (September 4, 2018)
Source: ARC Provided by the Publisher
(in exchange for an honest review)
My Rating: 5 Stars!
Book Description:
Hazel Camille Bradford knows she's a lot to take—and frankly, most men aren't up to the challenge. If her army of pets and thrill for the absurd don't send them running, her lack of filter means she'll say exactly the wrong thing in a delicate moment. Their loss. She's a good soul in search of honest fun.
Josh Im has known Hazel since college, where her zany playfulness proved completely incompatible with his mellow restraint. From the first night they met—when she gracelessly threw up on his shoes—to when she sent him an unintelligible email while in a post-surgical haze, Josh has always thought of Hazel more as a spectacle than a peer. But now, ten years later, after a cheating girlfriend has turned his life upside down, going out with Hazel is a breath of fresh air.
Not that Josh and Hazel date. At least, not each other. Because setting each other up on progressively terrible double blind dates means there's nothing between them...right?
Is there anything better than a Christina Lauren novel? Maybe but the truth of the matter is, when you open one up all thoughts of anything better are long gone because you just know that whatever is written inside, is going to be a real treat and far better than anything else you could have planned for the day.
I have to say, Josh and Hazel's Guide to Not Dating just might be my favorite Christina Lauren book to date.
It was so much fun, Hazel, was just so much fun. And I'm pretty sure I need someone like her in my life.
Josh and Hazel's budding friendship was just...perfect. I loved every single second of the relationship they built with each other. From the quirky blind dates to the just hanging out watching TV. These two were so much fun to see and be able to get inside their heads. I truly read this in one sitting in a couple of hours and was so sad when it was over.
I wish I would have prolonged it a little bit longer and made it last but I couldn't help it, I just adored these two and couldn't get enough of them.
Truly an outstanding read that I loved every single page of.
*All thoughts and opinions are my own and were not influenced by the author or publisher. I was not compensated for this review.*