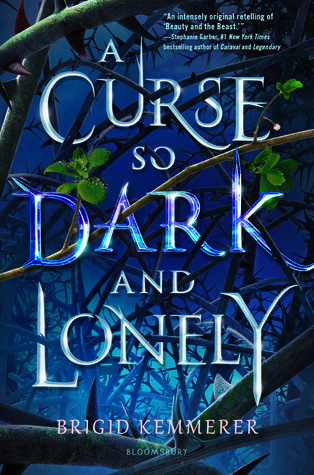 Title: A Curse So Dark and Lonely
Author: Brigid Kemmerer
Series: Book One
Genre: YA Fantasy
Published By: Bloomsbury (January 29, 2019)
Source: ARC Provided by the Publisher
(in exchange for an honest review)
My Rating: 5 Stars!
Book Description:
In a lush, contemporary fantasy retelling of Beauty and the Beast, Brigid Kemmerer gives readers another compulsively readable romance perfect for fans of Marissa Meyer.
Fall in love, break the curse.
It once seemed so easy to Prince Rhen, the heir to Emberfall. Cursed by a powerful enchantress to repeat the autumn of his eighteenth year over and over, he knew he could be saved if a girl fell for him. But that was before he learned that at the end of each autumn, he would turn into a vicious beast hell-bent on destruction. That was before he destroyed his castle, his family, and every last shred of hope.
Nothing has ever been easy for Harper Lacy. With her father long gone, her mother dying, and her brother barely holding their family together while constantly underestimating her because of her cerebral palsy, she learned to be tough enough to survive. But when she tries to save someone else on the streets of Washington, DC, she's instead somehow sucked into Rhen's cursed world.
Break the curse, save the kingdom.
A prince? A monster? A curse? Harper doesn't know where she is or what to believe. But as she spends time with Rhen in this enchanted land, she begins to understand what's at stake. And as Rhen realizes Harper is not just another girl to charm, his hope comes flooding back. But powerful forces are standing against Emberfall . . . and it will take more than a broken curse to save Harper, Rhen, and his people from utter ruin.
I adore Brigid Kemmerer's writing. She always has a unique flare unlike any other in any genre or sub-genre she writes and that makes her one of my most anticipated authors for each new release.
When I saw a twist on a classic fairytale we have all heard and many, me included, love, I was All. In.
This was so riveting. I was hooked from the very first dark chapter and was eager to know more as the story and the tale slowly unfolded. I loved Emberfall! The mystery, the legends, the lore, the curse. So dark and delicious and yet so alluring.
I truly couldn't get enough. And let's talk about that ending! I am so very excited that this tale, this story, isn't over. That we will be getting a sequel and from one of my most favorite characters no less. I truly am so pleased with the way Kemmerer twisted and turned this tale into something completely unique and all her own.
I will be eagerly awaiting the next release.
*All thoughts and opinions are my own and were not influenced by the author or publisher. I was not compensated for this review.*