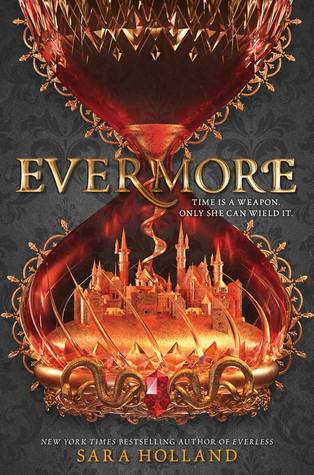 Title: Evermore
Author: Sara Holland
Series: Book Two in the Everless Series
Genre: YA Fantasy
Published By: HarperTeen (December 31, 2018)
Source: ARC Provided by the Publisher
(in exchange for an honest review)
My Rating: 5 Stars!
Book Description:
The highly anticipated sequel to New York Times bestseller, Everless!
Jules Ember was raised hearing legends of the ancient magic of the wicked Alchemist and the good Sorceress. But she has just learned the truth: not only are the stories true, but she herself is the Alchemist, and Caro—a woman who single-handedly murdered the Queen and Jules's first love, Roan, in cold blood—is the Sorceress.
The whole kingdom believes that Jules is responsible for the murders, and a hefty bounty has been placed on her head. And Caro is intent on destroying Jules, who stole her heart twelve lifetimes ago. Jules must delve into the stories that she now recognizes are accounts of her own past. For it is only by piecing together the mysteries of her lives that Jules will be able to save the person who has captured her own heart in this one.
Not only was I pleasantly surprised by Everless, the first book in the series but it took my breath away. It was captivating, imaginative and unlike others in the genre. In short, it was hard to put down and even harder to forget about. Which is why when Evermore came out I couldn't wait to sink back into the world that Holland had created.
Evermore picks up right where Everless left off, with Jules in mortal peril and reeling from all that she not only learned about her beloved Everless but about herself and those around her as well.
Fast paced, action packed and just a hint of romance combined with danger and deceit around every corner and Evermore lived up to Everless and more. This is no sophomore slump and proves that Holland knows what she is doing.
Ever bit as captivating and irresistible as Everless, Evermore once again left me eagerly turning the pages devouring every last sentence and being left wanting more.
*All thoughts and opinions are my own and were not influenced by the author or publisher. I was not compensated for this review.*