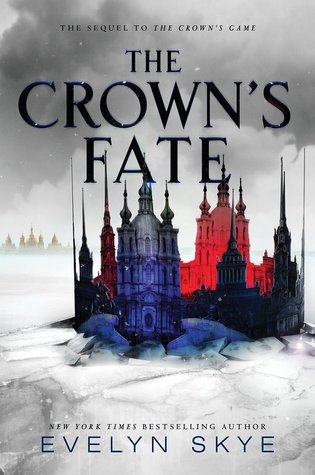 Title: The Crown's Fate
Author: Evelyn Skye
Series: Book Two in the Crown's Game Series
Published By: Balzer & Bray (May 17, 2017)
Source: ARC Copy Provided by the Publisher
(in exchange for an honest review)
Genre: YA Fantasy
My Rating: 3 Stars
Book Description:
Perfect for fans of Shadow and Bone and Red Queen, The Crown's Fate is the thrilling sequel to the New York Times bestselling The Crown's Game, an atmospheric historical fantasy set in Imperial Russia.
Russia is on the brink of great change. Pasha's coronation approaches, and Vika is now the Imperial Enchanter, but the role she once coveted may be more difficult—and dangerous—than she ever expected.
Pasha is grappling with his own problems—his legitimacy is in doubt, the girl he loves loathes him, and he believes his best friend is dead. When a challenger to the throne emerges—and with the magic in Russia growing rapidly—Pasha must do whatever it takes to keep his position and protect his kingdom.
For Nikolai, the ending of the Crown's Game stung deeply. Although he just managed to escape death, Nikolai remains alone, a shadow hidden in a not-quite-real world of his own creation. But when he's given a second chance at life—tied to a dark price—Nikolai must decide just how far he's willing to go to return to the world.
With revolution on the rise, dangerous new magic rearing up, and a tsardom up for the taking, Vika, Nikolai, and Pasha must fight—or face the destruction of not only their world but also themselves.
I fell in love with Skye's beautiful lyrical writing style in her debut novel Crown's Game last year and was eager to be thrown back into the magical setting that she had created and with the slightly cliffhanger ending, I was eager to know what would happen next.
This was quite the sequel. It was both happy and sad, maddening and infuriating. Beautiful and heartbreaking. So many things happened, came to an ending and came to a beginning and I'm still not sure if all of it was breathtaking or a complete disaster.
This was...I don't even know. It was good and then again it was sort of...lacking at the same time. It was wonderful and sort of not. I think part of me wanted more. More magic, less drama, more romance and less madness and anger.
Overall it was a story that captured my attention and while it maybe didn't quite live up the first book for me, it was still a pretty solid sequel and still a good story.
*All thoughts and opinions are my own and were not influenced by the author or publisher. I was not compensated for this review.*