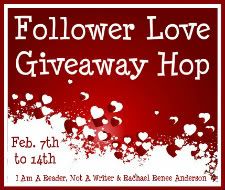 This Valentines Day I decided what better way to show my love to my followers than by participating in the Follower Love Giveaway Hop hosted by I Am Reader, Not A Writer and Rachael Renee Anderson.and giving away a book from some of my favorite Indie authors.
It is no secret that I adore Indie Authors and so I thought, why not combine my love for Indies and my love for my Follower?
I will be giving away an e-book from one of the following authors that will be "gifted" to them through Amazon.
Masquerade (Heven and Hell #1) by Cambria Hebert
Providence (Providence #1) by Jamie McGuire or any of her other books.
Under Witch Moon (Moon Shadow Series #1) by Maria E. Schneider (not YA but still a very fun clean series) or the second book in the series, Under Witch Aura.
She Smells The Dead (Spirit Guide #1) by E.J. Steven or any others in the series.
Opal Fire (Stacy Justice Mysteries #1) by Barbra Annino (not YA but still a very clean fun series also) or the second book in the series, Bloodstone.
These are all some of my favorite series by some of my favorite authors and I would love to help spread the word about their greatness.
And since Rafflecopter is not my friend today in order to enter the giveaway you must be or become a GFC follower of this blog and also leave a comment below with which book you would like if you win and an email you can be reached from. If you don't feel comfortable leaving your email address in the comment field, please feel free to email me your email address and GFC name once you have entered.
I will be randomly choosing a winner through Random.org on the 15th and posting the winner's name here and contacting them through email.
Also please don't forget to check out all the other wonderful blogs that are participating in the Hop. You can find a list of their sites below or in the links above.
Good luck to all who enter and thank you again for being such fabulous followers!!