There is a reason this book is turning into a movie. It's because it is amazing, so moving and heartfelt. Truly one of my favorite contemporaries I've read this year! If you haven't heard of it yet, I'm so excited to be introducing you to it and if you have and you've read it, then you already know what all the hype is about.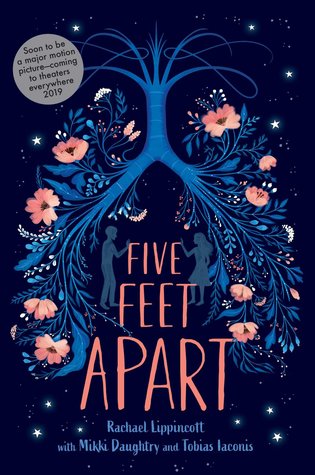 Title: Five Feet Apart
Author: Rachel Lippincott
Genre: YA Contemporary
Published By: Simon & Schuster (November 20, 2018)
Source: ARC Provided by the Publisher (in exchange for an honest review)
Book Description:
Soon to be a major motion picture releasing in March 2019, starring Cole Sprouse and Haley Lu Richardson
Can you love someone you can never touch?
Stella Grant likes to be in control—even though her totally out of control lungs have sent her in and out of the hospital most of her life. At this point, what Stella needs to control most is keeping herself away from anyone or anything that might pass along an infection and jeopardize the possibility of a lung transplant. Six feet apart. No exceptions.
The only thing Will Newman wants to be in control of is getting out of this hospital. He couldn't care less about his treatments, or a fancy new clinical drug trial. Soon, he'll turn eighteen and then he'll be able to unplug all these machines and actually go see the world, not just its hospitals.
Will's exactly what Stella needs to stay away from. If he so much as breathes on Stella she could lose her spot on the transplant list. Either one of them could die. The only way to stay alive is to stay apart. But suddenly six feet doesn't feel like safety. It feels like punishment.
What if they could steal back just a little bit of the space their broken lungs have stolen from them? Would five feet apart really be so dangerous if it stops their hearts from breaking too?
About the Author:
Rachael Lippincott was born in Philadelphia and raised in Bucks County, Pennsylvania. She holds a BA in English writing from the University of Pittsburgh. She currently resides in Pittsburgh, Pennsylvania, where she splits her time between writing and running a food truck with her partner.
Taking a chance on an author and a subject that you know little to nothing about, is always a risk and in some cases, its a chance, a risk, worth taking.
As is the case with Five Feet Apart. Beautifully written, heartfelt, emotional, and a read that will stick with you until the very end, Five Feet Apart is a novel that grabs you around the heart and refuses to let go.
So wonderfully told and executed it's a book that I won't be forgetting for a long time to come.
Poignant, emotional, informational, and an all around amazingly done story, Five Feet Apart is one you don't want to miss out on.