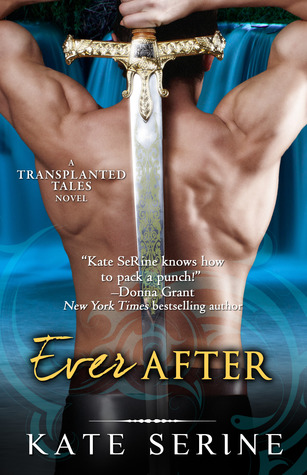 Title: Ever After
Author: Kate SeRine
Series: Book Four in the Transplanted Tales Series
Published By: Kensington (August 21, 2014)
Source: ARC Copy Provided by the Publisher
(in exchange for an honest review)
Genre: Urban Fantasy
My Rating: 4.5 Stars!
Book Description:
To Catch a Thief…
For centuries, Gideon Montrose has served the King of Fairies without question and, often, without mercy. So when the King orders him to apprehend a notorious thief, Gideon obeys. But when he finally gets his hands on the beautiful culprit, Gideon's in for a shock.
Arabella Locksley is none other than the spirited, unpredictable woman he knew back in Make Believe as Robin Hood — the love of his life whose tragic death destroyed his chance at Happily Ever After.
Now, he has an impossible choice. Betray the woman he once loved, or the king he's bound to serve?
SeRine has created a very unique take on modern day fairy tale characters and put such an unexpected, fun and even dangerous spin on stories that we all grew up hearing that you can't help but be enchanted by them.
Her characters, while versions of the fairy tales we grew up with, are nothing like what we remember. In fact, their story is usually only bits and pieces of what we grew up hearing and loving. They almost always have a dark past and most of them are not innocent at all.
So how could I resist a very different take on Robin Hood and Little John? Quite simply put, I couldn't.
Oh how I loved Gideon! In fact, I am going to go so far as to say that this whole book is by far my favorite yet. I just loved everything about it and once again I love that we get all the characters we have come to love from the other books in the series. I live for those glimpses!
Not only did I love Gideon but I also loved Arabella. How could I not love a feisty heroine who started the tale of Robin Hood and her band of Merry Men?
This truly was outstanding with just the right amount of steamy romance and like always, a mystery to keep us on our toes as well as inside info on all the Tales we have come to love. I love learning more and more about them as the series progresses and I love that even though some of the characters already had their book, we are still getting little inside info and glimpses into their past as well as their present.
I am so excited to see what SeRine comes out with next.
*All thoughts and opinions are my own and were not influenced by the author or publisher. I was not compensated for this review.*