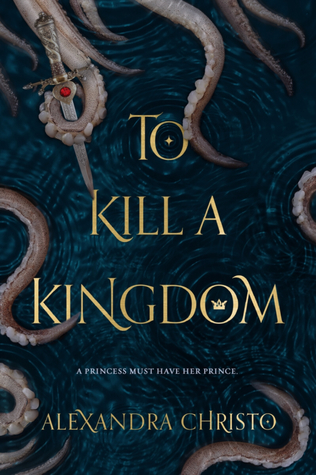 Title: To Kill a Kingdom
Author: Alexandra Christo
Series: Stand Alone
Published By: Feiwel & Friends (March 6, 2018)
Genre: YA Fantasy
Source: ARC Provided by the Publisher
(in exchange for an honest review)
My Rating: 4 Stars
Book Description:
Princess Lira is siren royalty and the most lethal of them all. With the hearts of seventeen princes in her collection, she is revered across the sea. Until a twist of fate forces her to kill one of her own. To punish her daughter, the Sea Queen transforms Lira into the one thing they loathe most—a human. Robbed of her song, Lira has until the winter solstice to deliver Prince Elian's heart to the Sea Queen or remain a human forever.
The ocean is the only place Prince Elian calls home, even though he is heir to the most powerful kingdom in the world. Hunting sirens is more than an unsavory hobby—it's his calling. When he rescues a drowning woman in the ocean, she's more than what she appears. She promises to help him find the key to destroying all of sirenkind for good—But can he trust her? And just how many deals will Elian have to barter to eliminate mankind's greatest enemy?
To Kill a Kingdom is a deliciously dark atmospheric read that will have you captivated from the very first haunting chapter.
Set in a world of sea life, danger, deceit and treachery, this debut novel is sure to capture your attention and give you an unsuspected thrill ride as you dive both below the waters and on land in this tale riddled with both classic lore and a new darker take on sirens, mermaids, and the great unknown.
Riddled with complex characters, witty banter and characters with depth, this is a tale that will surely suck you in and have you wanting to sail the seven seas right along with it.
*All thoughts and opinions are my own and were not influenced by the author or publisher. I was not compensated for this review.*