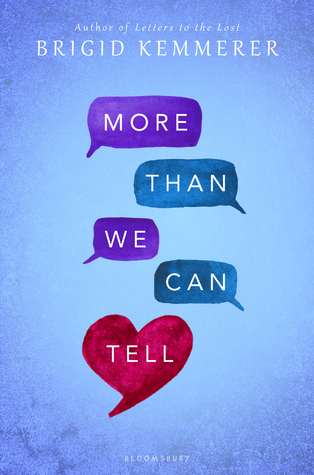 Title: More Than We Can Tell
Author: Brigid Kemmerer
Series: Book Two in the Letters to the Lost Series
(but acts as a stand alone)
Published By: Bloomsbury Children's (March 6, 2018)
Source: ARC Provided by the Publisher
(in exchange for an honest review)
Genre: YA Contemporary
My Rating: 4.5 Stars!
Book Description:
*While this book exists in the same universe as Letters to the Lost, it is a standalone title.*
Rev Fletcher is battling the demons of his past. But with loving adoptive parents by his side, he's managed to keep them at bay...until he gets a letter from his abusive father and the trauma of his childhood comes hurtling back.
Emma Blue spends her time perfecting the computer game she built from scratch, rather than facing her parents' crumbling marriage. She can solve any problem with the right code, but when an online troll's harassment escalates, she's truly afraid.
When Rev and Emma meet, they both long to lift the burden of their secrets and bond instantly over their shared turmoil. But when their situations turn dangerous, their trust in each other will be tested in ways they never expected. This must-read story will once again have readers falling for Brigid Kemmerer's emotional storytelling.
Last year Letters to the Lost was one of my top ten reads so it was pretty much a no brainer that More Than We Can Tell would be high on my priority list of must read books for 2018.
Throw in that this is Rev's story and yeah, I wasn't missing out on this for the world.
Kemmerer has done as amazing job of sliding right into the YA Contemporary genre. Not only was this just as beautiful, just as emotional as it's predecessor but I think it even went a step further.
The feels people, they are real.
I absolutely loved how beautiful this story ended up being. It wasn't your typical coming of age story, although it is that too. Instead this was one about not letting other peoples choices become ours and not letting others past determine our future.
About forgiving and letting go and moving on and becoming the best possible people we can under any circumstance.
So much happens in this and so much was just..felt. By the characters, by me. I truly loved this predecessor to Letters of the Lost and anyone who enjoyed it, must read this one as well.
*All thoughts and opinions are my own and were not influenced by the author or publisher. I was not compensated for this review.*