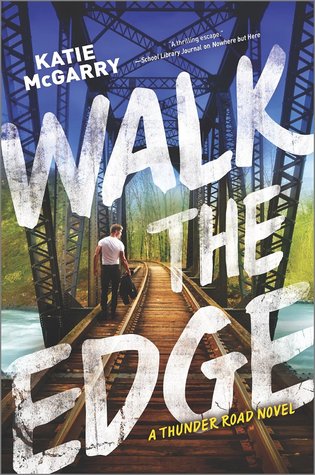 Title: Walk the Edge
Author: Katie McGarry
Series: Book Two in the Thunder Road Series
Published By: Harlequin Teen (March 29, 2016)
Source: ARC Copy Provided by the Publisher
(in exchange for an honest review)
Genre: YA Contemporary
My Rating: 4.5 Stars!
Book Description:
One moment of recklessness will change their worlds
Smart. Responsible. That's seventeen-year-old Breanna's role in her large family, and heaven forbid she put a toe out of line. Until one night of shockingly un-Breanna-like behavior puts her into a vicious cyber-bully's line of fire—and brings fellow senior Thomas "Razor" Turner into her life.
Razor lives for the Reign of Terror motorcycle club, and good girls like Breanna just don't belong. But when he learns she's being blackmailed over a compromising picture of the two of them—a picture that turns one unexpected and beautiful moment into ugliness—he knows it's time to step outside the rules.
And so they make a pact: he'll help her track down her blackmailer, and in return she'll help him seek answers to the mystery that's haunted him—one that not even his club brothers have been willing to discuss. But the more time they spend together, the more their feelings grow. And suddenly they're both walking the edge of discovering who they really are, what they want, and where they're going from here.
Is there truly anything that McGarry can't write? Each new book, each new story just seems to get better and better. And not only better but so much more memorable and she just knows how to hit you right in the feels and let me tell you, this book is all about the feels!
I liked Razor from book one but I wasn't quite sure if he would be able to win my heart over, but oh boy did Katie have me changing my mind about him and his gruff exterior. He truly was a surprise and such a wonderful character. Flawed, damaged but still knew how to love and love well. He is fierce in his promises and in his love. I seriously drooled over him he is that well written and fleshed out.
Katie McGarry is truly one of the few YA contemporary authors that I come back to time and time again because I know she will deliver. And not only does she know how to write her swoon worthy heroes but her heroines are just as feisty, tough and lovable.
I adored Breanna from the very first chapter and wanted more of her story. I felt so much for her in this. She isn't damaged in the typical fashion but rather over worked and overused by not just her parents but all her siblings. She is under appreciated and yet with all that is on her plate, she still has a heart of gold and can see past what others can't.
This story was just so much more than what I was expecting and completely restored my faith in this genre. This isn't the same old storyline with a new buff shininess to it. It stands and shines on its own and is really just that good. It will make you laugh, make you smile, make you cry and even make you melt. This was an outstanding second book to the series and I'm eagerly waiting for more.
*All thoughts and opinions are my own and were not influenced by the author or publisher. I was not compensated for this review.*