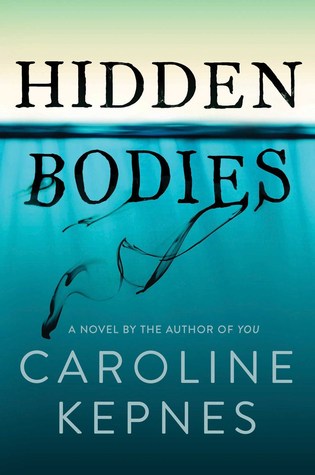 Title: Hidden Bodies
Author: Caroline Kepnes
Series: Book Two in the You Duology
Published By: Atria (February 23, 2016)
Source: ARC Copy Provided by the Publisher
(in exchange for an honest review)
Genre: Mystery/Thriller
My Rating: 4 Stars!
Book Description:
Charmingly murderous anti-hero Joe Goldberg continues his twisted quest for the perfect love in this thrilling follow-up to the "deeply dark yet mesmerizing" You. When Joe follows the woman he wants to marry to the West Coast, he never imagines that his obsession will lead him to such tragedy.
Disturbing, horrific, vengeful, psychotic, and foul are all words that not only describe this novel but Joe, the ultimate anti-hero, himself. And yet despite all his flaws, all of the horrors that he has done, we can't help but be fascinated by his story. By how his mind works, categories, justifies, and manipulates.
And no matter how dark a place that is, Joe's world, Joe's mind, he still manages to have some redeeming qualities and those qualities, are what keep us reading. Keep us hoping that maybe just maybe, this story, his story, will somehow be okay in the end. That there has to be some happily ever after, whether for him or for his victims.
Without going into too much detail I will say that this isn't the same Joe from You, in fact, this is a whole new Joe, good and bad and this book, shed so much light, on so many things. Once again we are thrust into a dark mind, a dark place but also a place that does have some light. Small rays that slip through here and there, those redeeming qualities that we all hope are really there, that are in all of us, good bad, evil, what have you.
Kepnes once again wrote something much different from anything else I have ever dared to read. She puts us in a place most of us would never dream to go, would never want to go, and yet she keeps us reading, keeps us turning the pages. I have to hand it to her, this woman knows how to draw us in. She knows how to write and sick or not, she does it well.
*All thoughts and opinions are my own and were not influenced by the author or publisher. I was not compensated for this review.*