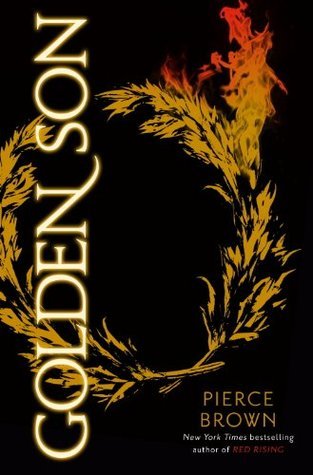 Title: Golden Son
Author: Pierce Brown
Series: Book Two in the Red Rising Trilogy
Published By: Del Rey (January 6, 2015)
Source: ARC Copy Provided by the Publisher
(in exchange for an honest review)
Genre: Dystopian/Fantasy
My Rating: 5 Stars!
Book Description:
With shades of The Hunger Games, Ender's Game, and Game of Thrones, debut author Pierce Brown's genre-defying epic Red Rising hit the ground running and wasted no time becoming a sensation. Golden Son continues the stunning saga of Darrow, a rebel forged by tragedy, battling to lead his oppressed people to freedom from the overlords of a brutal elitist future built on lies. Now fully embedded among the Gold ruling class, Darrow continues his work to bring down Society from within. A life-or-death tale of vengeance with an unforgettable hero at its heart, Golden Son guarantees Pierce Brown's continuing status as one of fiction's most exciting new voices.
You know those books that completely blow you away and you weren't even expecting to like them let alone love them, and yet after reading them, they quickly became one of your most favorite reads of the year? That was Red Rising for me last year and because of it the sequel, Golden Son, has been one of my most anticipated reads of 2015.
And even though I was so excited to get my hands on a copy of it, right before I opened it those nasty little doubts started creeping in. What if it doesn't live up to Red Rising? What if it suffers from middle book syndrome? What if I hate it and it ruins the whole series for me? What if, what if, what if.
So yeah, I went into this excited but just a tad bit nervous as well.
Silly me, I had no reason to be nervous and I should have known that after the greatness of Red Rising, which, let me tell you, was nothing, NOTHING compared to mind blowing fantstic-ness of Golden Son.
To once again sink effortlessly into the dark world that Brown has created. One filled with nonstop action, betrayals, conspiracies, war, and the fight for survival in a world full of colors.
This book. This freaking book! Oh how I love Pierce Brown and all his creative genius.
Oh how I love this crazy messed up world of ranking colors. Reds, Golds, Blues, Grays, Silvers, Obsidian, Pinks...and how, most of all, I love Darrow. His goodness, his insecurities, his bravery, his kindness, his fierceness and his struggles with who is was, who is he, and who he knows he must become.
His story, his struggles aren't easy ones, but then again, do any of the great heroes of their time every have it easy? Are any of the great stories every simple to read? Their journeys are not smooth and their battles are long.
As much as I love Darrow, I love Servo, Mustang, and few new names as well that completely surprised me.
Brown truly took all the wonderful harshness, battles, vengeance, blood, gore, and glimmers of love, kindness and hope that made Red Rising such a huge success and expanding on them.
This truly is one of the best sequels I think I have ever read. So much emotion and turmoil and greatness. So much hope, sadness, victory, death, and the whatifs of what is to come.
The definition of a book hangover is this:
When you've finished a book and you suddenly return to the real world, but the real world feels incomplete or surreal because you're still living in the world of the book.
And a book hangover is definitely what I still have, days later after finishing this. It is going to be such a long wait for book three but I can't wait for it to get here.
*All thoughts and opinions are my own and were not influenced by the author publisher. I was not compensated for this review.*