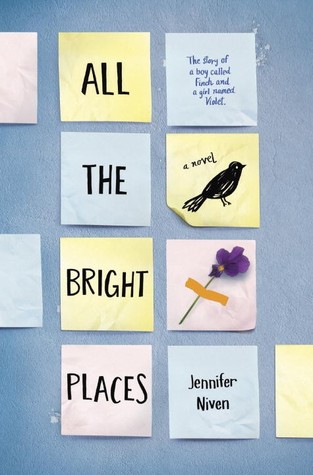 Title: All The Bright Places
Author: Jennifer Niven
Series: Stand Alone
Published By: Knopf (January 6, 2015)
Source: ARC Copy Provided by the Publisher
(in exchange for an honest review)
Genre: YA Contemporary
My Rating: 5 Stars!
Book Description:
The Fault in Our Stars meets Eleanor and Park in this compelling, exhilarating, and beautiful story about a girl who learns to live from a boy who intends to die.
Theodore Finch is fascinated by death, and he constantly thinks of ways he might kill himself. But each time, something good, no matter how small, stops him.
Violet Markey lives for the future, counting the days until graduation, when she can escape her Indiana town and her aching grief in the wake of her sister's recent death.
When Finch and Violet meet on the ledge of the bell tower at school, it's unclear who saves whom. And when they pair up on a project to discover the "natural wonders" of their state, both Finch and Violet make more important discoveries: It's only with Violet that Finch can be himself—a weird, funny, live-out-loud guy who's not such a freak after all. And it's only with Finch that Violet can forget to count away the days and start living them. But as Violet's world grows, Finch's begins to shrink.
This is an intense, gripping novel perfect for fans of Jay Asher, Rainbow Rowell, John Green, Gayle Forman, and Jenny Downham from a talented new voice in YA, Jennifer Niven.
This is a book that sticks with you, forever in your thoughts and one that will forever be in your heart.
The characters felt real, alive, raw. They very essence was capture within the pages and breathed life into them.
It is happiness. It is sadness, it is anger, and it is almost everything else in between.
This is the kind of book that is a complete challenge to review because you don't know exactly what to say because instead of talking about it, you are left still feeling it.
So many emotions and so many thoughts, words really don't compare, they don't live up to what you want to say and they don't come easy. For once I am at a loss as how to review a story. A story so heartfelt and strong, so stirring and emotional, that I have too much to say and not nearly enough to express them all.
I smiled. I cried. I laughed and then I cried some more and just when I thought I couldn't cry anymore, just when I thought I was all done, I would start crying all over again.
Is it possible to be both happy and sad at the same time? Is it possible to love the ending and to hate it as well?
Is it possible to reach through the very pages that moved me so much and snatch the characters out of them and hold them tight? To protect them from everything, including themselves? Because I want to, oh how I want to.
I felt and connected with Finch like I haven't to a character in a really long time. He was so darn good and pure but so very confused and sad and broken that his story, just about broke me.
Violet was extraordinary in her own right, but Finch stole the show and consequently my heart along with it.
This is beautifully written and exceptionally heartwarming and achingly heartbreaking. It will build you up and then tear you down only to build you up again and leave you breathless in every way imaginable.
A tale of loss, love and living life to the fullest, however long that life may be and finding beauty in all the small things as well as the great.
*All thoughts and opinions are my own and were not influenced by the author or publisher. I was not compensated for this review.*