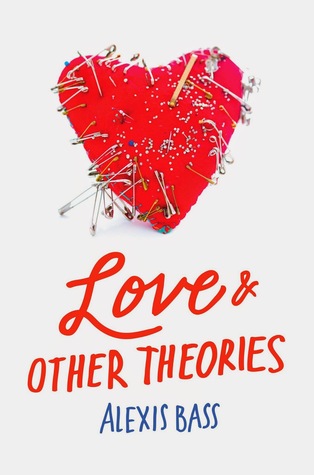 Title: Love & Other Theories
Author: Alexis Bass
Series: Stand Alone
Published By: Harper Teen (December 31, 2014)
Source: ARC Copy Provided by the Publisher
(in exchange for an honest review)
Genre: YA Contemporary
My Rating: 4 Stars
Book Description:
If you want more, you have to give less.
That's the secret to dating in high school. By giving as little as they expect to get in return, seventeen-year-old Aubrey Housing and her three best friends have made it to the second semester of their senior year heartbreak-free. And it's all thanks to a few simple rules: don't commit, don't be needy, and don't give away your heart.
So when smoking-hot Nathan Diggs transfers to Lincoln High, it shouldn't be a big deal. At least that's what Aubrey tells herself. But Nathan's new-boy charm, his kindness, and his disarming honesty throw Aubrey off her game and put her in danger of breaking the most important rule of all: Don't fall in love.
Love and Other Theories was one of my most anticipated YA contemporary reads for December and because of that I feel I need to be completely honest with this review.
While I enjoyed this read, it left me feeling sad and a little bit angry. Sad for girls who feel they need to play games and have a misconstrued idea about what love means and sad for those boys that give them those ideas and thoughts.
To be honest, I am still not exactly sure if I loved Aubrey and her friends but I do know that I loved Nathan and my heart broke for him numerous times throughout the story.
I don't think I quite have all my thoughts and feelings together over whether I liked this story or hated it.
Like I said earlier, there were parts that made me angry and parts that made me sad and very little left me smiling.
The writing was fabulous but the messages weren't always great and the girl's attitude and ideas (their theories) about dating, boys, and falling in love were worse. I wanted to shake some of them and help open their eyes to the boys that weren't worth the time and especially, to the boys that were.
I didn't like that Brey went along with things that she shouldn't have. That she should have followed her heart so many times and didn't and because of it, hurt a lot of others along the way.
I didn't like that this didn't end on an upbeat and happy note and...well. I really don't even now how to express how much it is possible to love a book and hate it at the same time, but there you have it. I loved this and I hated it but because of that, I still have no idea how to rate it.
How do you rate something that you both loved because of the wonderful writing and because Brey did grow up and she did change, but hated because it was so awful seeing what these girls were doing to themselves and others around them?
I honestly still don't know but I will say this, the writing was fabulous and the messages while sometimes sad, weren't all bad, they were and are a very realistic part of what it is like growing up, a huge part of how you find out what you want, what you need, in life, so for that this deserves four stars.
*All thoughts and opinions are my own and were not influenced by the author or publisher. I was not compensated for this review.*