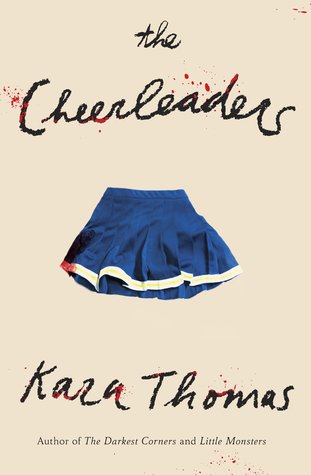 Title: The Cheerleaders
Author: Kara Thomas
Series: Stand Alone
Genre: YA Mystery
Published By: Delacorte (July 31, 2018)
Source: ARC Provided by the Publisher
(in exchange for an honest review.)
My Rating: 4 Stars!
Book Description:
There are no more cheerleaders in the town of Sunnybrook.
First there was the car accident—two girls gone after hitting a tree on a rainy night. Not long after, the murders happened. Those two girls were killed by the man next door. The police shot him, so no one will ever know why he did it. Monica's sister was the last cheerleader to die. After her suicide, Sunnybrook High disbanded the cheer squad. No one wanted to be reminded of the girls they lost.
That was five years ago. Now the faculty and students at Sunnybrook High want to remember the lost cheerleaders. But for Monica, it's not that easy. She just wants to forget. Only, Monica's world is starting to unravel. There are the letters in her stepdad's desk, an unearthed, years-old cell phone, a strange new friend at school. . . . Whatever happened five years ago isn't over. Some people in town know more than they're saying. And somehow Monica is at the center of it all.
There are no more cheerleaders in Sunnybrook, but that doesn't mean anyone else is safe.
I read a lot of mysteries and I also happen to read a fair amount of young adult and when you combine the two, I'll be honest, it doesn't always work. But once in a while it does and in the case of The Cheerleaders, I think it's safe to say that is did, indeed work.
It kept me on edge constantly guessing how all these girls died and if they were murdered, ever single one of them, all in different horrible ways. And if they were, they why, and most importantly, who was responsible?
This is one of those reads where you never quite know what is happening. Not as in, where is the plot going but more as in, where they murdered? Was it a tragic accident, or was it something more? Who is the bad guy here if there even is one?
Back and forth I would flip between if they were or weren't and I loved it. I love that I didn't guess every single thing (like I normally do) after only the first few chapters. I like that this kept me on edge and wondering. That doesn't always happen, in fact it happens very little, even in adult mysteries.
Definitely a page turner that I enjoyed right up until the very twisty end.
*All thoughts and opinions are my own and were not influenced by the author or publisher. I was not compensated for this review.*