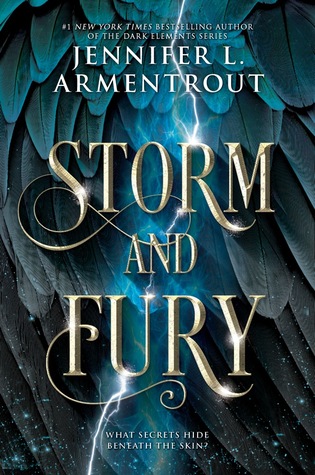 Title: Storm and Fury
Author: Jennifer Armentrout
Series: Book One in the Harbinger Series
Genre: YA/NA Fantasy
Published By: Inkyard Press (June 11, 2019)
Source: ARC Provided by the Publisher
(in exchange for an honest review)
My Rating: 4 Stars!
Book Description:
Eighteen-year-old Trinity Marrow may be going blind, but she can see and communicate with ghosts and spirits. Her unique gift is part of a secret so dangerous that she's been in hiding for years in an isolated compound fiercely guarded by Wardens—gargoyle shape-shifters who protect humankind from demons. If the demons discover the truth about Trinity, they'll devour her, flesh and bone, to enhance their own powers.
When Wardens from another clan arrive with disturbing reports that something out there is killing both demons and Wardens, Trinity's safe world implodes. Not the least because one of the outsiders is the most annoying and fascinating person she's ever met. Zayne has secrets of his own that will upend her world yet again—but working together becomes imperative once demons breach the compound and Trinity's secret comes to light. To save her family and maybe the world, she'll have to put her trust in Zayne. But all bets are off as a supernatural war is unleashed…
I absolutely adored Armentrout's Dark Elements trilogy and when I saw that she was releasing a new book set in the same world of the Wardens, I knew it was something I had to try.
I'm so excited that Armentrout decided to resurrect this series. It really is so much fun and truly completely unique.
Not only do we get a continuation of the series but this time with a new unique character but, we get to see many old favorites as well.
It couldn't have been any more fun if it tried.
I loved every second of this book. From the slow burn romance to the action and mystery to the fun banter and of course, they very real medical condition that Armentrout herself has. It was so informative and interesting and just...yeah. Such a great read and one I can not wait for all fans to read and of course, for the next book to come out.
*All thoughts and opinions are my own and were not influenced by the author or publisher. I was not compensated for this review.*