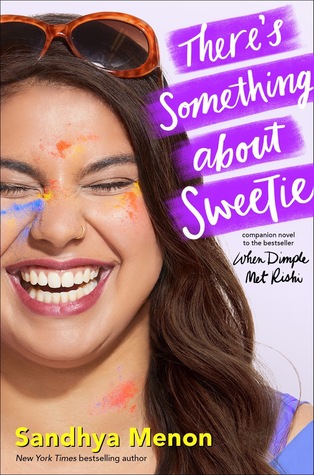 Title: There's Something About Sweetie
Author: Sandhya Menon
Series: Book Two in the Dimple and Rishi Series
Genre: YA Contemporary
Published By: Simon Pulse (May 14, 2019)
Source: ARC Provided by the Publisher
(in exchange for an honest review)
My Rating: 5 Stars!
Book Description:
Ashish Patel didn't know love could be so…sucky. After he's dumped by his ex-girlfriend, his mojo goes AWOL. Even worse, his parents are annoyingly, smugly confident they could find him a better match. So, in a moment of weakness, Ash challenges them to set him up.
The Patels insist that Ashish date an Indian-American girl—under contract. Per subclause 1(a), he'll be taking his date on "fun" excursions like visiting the Hindu temple and his eccentric Gita Auntie. Kill him now. How is this ever going to work?
Sweetie Nair is many things: a formidable track athlete who can outrun most people in California, a loyal friend, a shower-singing champion. Oh, and she's also fat. To Sweetie's traditional parents, this last detail is the kiss of death.
Sweetie loves her parents, but she's so tired of being told she's lacking because she's fat. She decides it's time to kick off the Sassy Sweetie Project, where she'll show the world (and herself) what she's really made of.
Ashish and Sweetie both have something to prove. But with each date they realize there's an unexpected magic growing between them. Can they find their true selves without losing each other?
Is there anything better than a sweet cute contemporary that packs all the feels and leaves you with a smile shinning bright on your face? Something fun and energetic and most of all, just really really good? Nope, I don't think so, at least, not in the book world.
There's Something About Sweetie was so wonderful. Packed full of sweet and heartfelt messages about accepting who we are and being strong and independent while still being respectful of others.
I love not only the strong and powerful messages this book had but also the strong and supportive parents and heritage as well. There truly is something to be said about reading something you don't hear about every day. About a woman being confident in her own body, regardless of what color, shape, or size said body is. About accepting not only others, but ourselves too. Loving others and allowing others to love us in return.
The fact that no one is perfect. We are all learning and doing the best we can. We all have faults and cracks and insecurities regardless of our appearance but we don't let those things define us, we let them make us stronger.
I adored this read. The characters, the messages, the sweet building romance. It was just so real, so fun and really did leave me with a huge smile on my face.
*All thoughts and opinions are my own and were not influenced by the author or the publisher. I was not compensated for this review.*