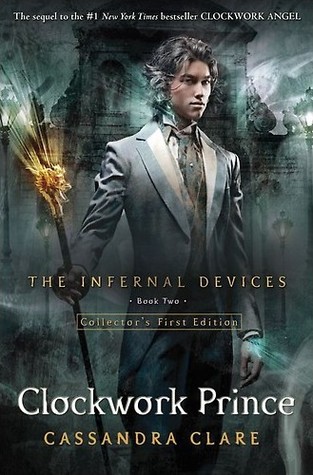 Title: Clockwork Prince
Author: Cassandra Clare
Series: Book Two in the Infernal Devices Trilogy
Published By: Simon & Schuster (December 6, 2011)
Source: Purchased
Genre: YA Fantasy
My Rating: 4 Stars!
Book Description:
In the magical underworld of Victorian London, Tessa Gray has at last found safety with the Shadowhunters. But that safety proves fleeting when rogue forces in the Clave plot to see her protector, Charlotte, replaced as head of the Institute. If Charlotte loses her position, Tessa will be out on the street—and easy prey for the mysterious Magister, who wants to use Tessa's powers for his own dark ends.
With the help of the handsome, self-destructive Will and the fiercely devoted Jem, Tessa discovers that the Magister's war on the Shadowhunters is deeply personal. He blames them for a long-ago tragedy that shattered his life. To unravel the secrets of the past, the trio journeys from mist-shrouded Yorkshire to a manor house that holds untold horrors, from the slums of London to an enchanted ballroom where Tessa discovers that the truth of her parentage is more sinister than she had imagined. When they encounter a clockwork demon bearing a warning for Will, they realize that the Magister himself knows their every move—and that one of their own has betrayed them.
Tessa finds her heart drawn more and more to Jem, but her longing for Will, despite his dark moods, continues to unsettle her. But something is changing in Will—the wall he has built around himself is crumbling. Could finding the Magister free Will from his secrets and give Tessa the answers about who she is and what she was born to do?
As their dangerous search for the Magister and the truth leads the friends into peril, Tessa learns that when love and lies are mixed, they can corrupt even the purest heart.
Okay I get it, I finally get why Will is such a big deal. Why there was ever any competition at all for Jem.
I won't lie, I didn't love him in book one, in fact I barely tolerated the cocky stubborn shadowhunter and numerous times I wanted to reach through the pages and give him a good smack on Tessa's behalf. But I hung in there and never lost hope that he would finally redeem himself some how and oh how he redeemed himself!
I get it. I truly do but oh how I hate love triangles but I must admit, if ever one was done right, if ever one was done to rip your heart out and truly not be able to love one more than the other, it was in Clockwork Prince.
Clare sure knows how to write them doesn't she?
I was constantly guessing and second guessing and thinking about this story even when I wasn't reading it.
It was hard to forget and even harder to ignore. I devoured it and then devoured it some more and still couldn't get enough.
Well done Ms. Clare, well done.
*All thoughts and opinions are my own and were not influenced by the author or publisher. I was not compensated for this review.*