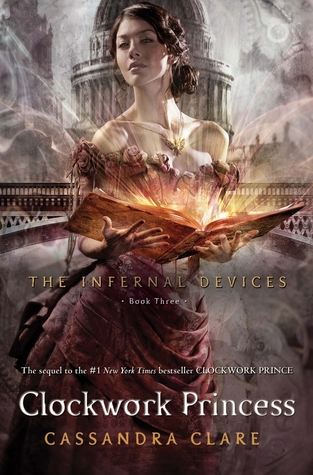 Title: Clockwork Princess
Author: Cassandra Clare
Series: Book Three in the Infernal Devices Trilogy
Published By: Walker Books (September 5, 2013)
Source: Purchased
Genre: YA Fantasy
My Rating: 5 Stars!
Book Description:
Tessa Gray should be happy—aren't all brides happy? Yet as she prepares for her wedding, a net of shadows begins to tighten around the Shadowhunters of the London Institute. A new demon appears, one linked by blood and secrecy to Mortmain, the man who plans to use his army of pitiless automatons, the Infernal Devices, to destroy the Shadowhunters. Mortmain needs only one last item to complete his plan. He needs Tessa. And Jem and Will, the boys who lay equal claim to Tessa's heart, will do anything to save her.
Being brutally honest I didn't expect to get swept away and into this series as much as I ended up being.
I didn't love Will in book one and barely tolerated him by the ending. It wasn't until book two that things really started to grow and change and I finally saw what all the hype was about. I didn't doubt Clare's writing ability or even her talent but rather just how involved I would get in a love triangle that I never expected to be torn in part about.
Once upon a time I liked a good love triangle, it kept things interested and even fun, until that is, they were so overly used and expected that they stopped being fun and I dreaded reading about them. It seemed very rarely did anyone win and more often than not I wanted to smack the girl caught up in the middle of it.
I didn't feel that way about Tessa though, not once and Will and Jem, while both with faults (okay maybe Jem is perfect and had no fault), they were both equally lovable and worthy of her and I could truly see how she loved them both and was torn between them. She was never wish washy though, she was strong in her choices and that made it all believable and most of all, bearable.
Add in the mystery of Tessa's origin, a mad man on the loose, and the appeal that is the world of Shadowhunters, all set in the late 1800's London, and you seriously have one heck of a read that constantly kept me on my toes.
Even though numerous times my heart was torn in two over the love triangle and the betrayals, I loved every single minute of this series.
The ending, while convenient, did hold true to the rest of the series and it was, in short, wonderful and very realistic to the characters, their love, their sacrifice, and their friendship.
This was so beautiful written. I think I loved it even more than I did the original series and that is saying something and something I never thought would happen.
*All thoughts and opinions are my own and were not influenced by the author or publisher. I was not compensated for this review.*