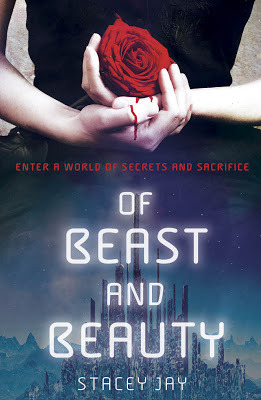 Title: Of Beast and Beauty
Author: Stacey Jay
Series: Stand Alone
Published By: Delacorte Press (July 23, 2013)
Source: Purchased
Genre: YA Retelling/Fantasy
My Rating: 4 Stars!
Book Description:
In the beginning was the darkness, and in the darkness was a girl, and in the girl was a secret...
In the domed city of Yuan, the blind Princess Isra, a Smooth Skin, is raised to be a human sacrifice whose death will ensure her city's vitality. In the desert outside Yuan, Gem, a mutant beast, fights to save his people, the Monstrous, from starvation. Neither dreams that together, they could return balance to both their worlds.
Isra wants to help the city's Banished people, second-class citizens despised for possessing Monstrous traits. But after she enlists the aid of her prisoner, Gem, who has been captured while trying to steal Yuan's enchanted roses, she begins to care for him, and to question everything she has been brought up to believe.
As secrets are revealed and Isra's sight, which vanished during her childhood, returned, Isra will have to choose between duty to her people and the beast she has come to love.
Beauty and the Beast is by far my most favorite childhood fairy tale. Who didn't love the beautiful brown eyed girl who love to read and had a heart of gold?
Being a brown eyed bookworm myself, she was the princess I related to the most. And who wouldn't want to marry a handsome prince?
Being a lover of both the Beauty and the Beast fairytale and of re-tellings, I couldn't resist Stacye Jay's spin on the classic tale. Already loving her spin on the classic Romeo and Juliet in her Juliet Immortal series, I just knew I would be in for a treat and a tale that would be darker and definitely one that would keep me on my toes.
I was not disappointed in the least.
Told in three point of views of Isra, Gem, and Bo, this was done beautifully.
With a fantasy world that was easy to envision and a cast of character reminiscent of the fairytale this was a fun take on the classic and something I easily and quickly devoured.
Jay's writing continues to enchant me and I will pick up anything she writes in the future. I just love her twisted take and darker versions of stories that almost have a new like feel and appeal to them. This was another winner for me and after having this one in my TBR pile for nearly three years, I'm glad I finally read and loved.