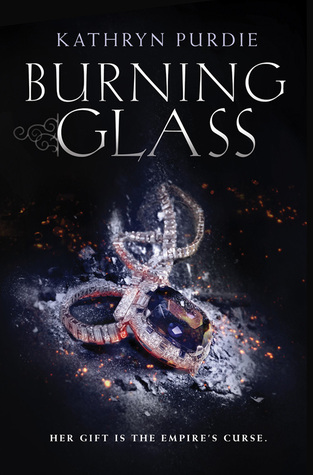 Title: Burning Glass
Author: Kathryn Purdie
Series: Book One in the Burning Glass Series
Published By: Katherine Tegen (March 1, 2016)
Source: ARC Copy Provided by the Publisher
(in exchange for an honest review)
Genre: YA Fantasy
My Rating: 4 Stars!
Book Description:
Sonya was born with the rare gift to feel what those around her feel—both physically and emotionally—a gift she's kept hidden from the empire for seventeen long years. After a reckless mistake wipes out all the other girls with similar abilities, Sonya is hauled off to the palace and forced to serve the emperor as his sovereign Auraseer.
Tasked with sensing the intentions of would-be assassins, Sonya is under constant pressure to protect the emperor. One mistake, one small failure, will cost her own life and the lives of the few people left in the world who still trust her.
But Sonya's power is untamed and reckless, her feelings easily usurped, and she sometimes can't decipher when other people's impulses end and her own begin. In a palace full of warring emotions and looming darkness, Sonya fears that the biggest danger to the empire may be herself.
As she struggles to wrangle her abilities, Sonya seeks refuge in her tenuous alliances with the volatile Emperor Valko and his idealistic younger brother, Anton, the crown prince. But when threats of revolution pit the two brothers against each other, Sonya must choose which brother to trust—and which to betray.
BURNING GLASS is debut author Kathryn Purdie's stunning tale of dangerous magic, heart-rending romance, and the hard-won courage it takes to let go.
This was one of my most anticipated reads from Harper Teen for 2016. Between the gorgeous cover, the kick butt synopsis and the hopes that this would be something unique and fun, I was so excited to start it and hoped like crazy it would live up to all those pretty promises that both cover and synopsis claimed.
I am thrilled to report that this was a nonstop, can't put down, page turner for me. Ms. Purdie's debut novel held and captured my attention like only a well written fantasy novel can.
It was unique, different, fun, and had a plot line that kept me guessing and turning the pages. With a protagonist that wasn't always likable but still easy to read about.
With an almost old world historic feel and yet the thrill of a new magic filled fantasy land where anything can happen with it's unknown horrors, dangers and magic, this truly lived up to all my expectations and ended up being a read that was every bit as hard to put down as I was hoping it would be.
*All thoughts and opinions are my own and were not influenced by the author or publisher. I was not compensated for this review.*