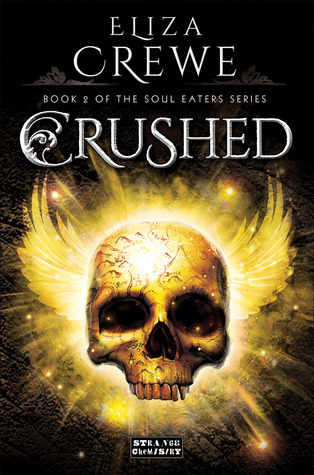 Title: Crushed
Author: Eliza Crewe
Series: Book Two in the Soul Eaters Series
Published By: Strange Chemistry (August 5, 2014)
Source: ARC Copy Provided by the Publisher
(in exchange for an honest review)
Genre: YA Fantasy
My Rating: 4.5 Stars!
Book Description:
Meda Melange has officially hung up her monstrous mantle and planted her feet firmly on the holy and righteous path of a Crusader-in-training. Or, at least, she's willing to give it a shot. It helps that the Crusaders are the only thing standing between her and the demon hordes who want her dead.
The problem is, the only people less convinced than Meda of her new-found role as Good Girl are the very Crusaders she's trying to join. So when a devilishly handsome half-demon boy offers escape, how's a girl supposed to say "no?"
After all, everyone knows a good girl's greatest weakness is a bad boy.
This is one of those rare series were you go into it knowing the heroine is no hero. She isn't good, she is downright evil and she doesn't make excuses for it. She doesn't try to hide it. It is who she is and she owns it.
Crewe has created something that while not original has been made that way. Meda is a one of a kind girl, or rather demon and you can't help but like her.
"Colton suspects we're not just children, that we are, in fact, the terrifying things that go bump in the ngiht. But, no, that's wrong. Not things that bump. Bumps are clumsy and inelegant. They are sounds made by creatures not at home in the darkness. I don't bump. I crunch in the night. I crack; I splatter; I splash. But I never, ever bump."
This was so much more than the first and what I mean by that is that we really get the knitty gritty on Meda. Her personality and feelings (and sometimes lack of) really shine and show. We really get that little extra something that wasn't in the first book and we can't help but love her all the more for it.
I don't want to go into too much detail but Crewe reminded us all over again that sometimes the one who is considered the real hero of the story, isn't always so cut and dry, it isn't always about good versus evil and there is in fact, a whole lot of gray mixed in with the black and white of it.
Armand was a fabulous addition (well a bigger addition than last time) to the story and even with the ending, I couldn't help but love him almost as much as I loved Meda.
I am so excited with where this story and Meda's character is going. So much growth is happening and so much is being revealed and uncovered. I can't wait for more.
*All thoughts and opinions are my own and were not influenced by the author or publisher. I was not compensated for this review.*