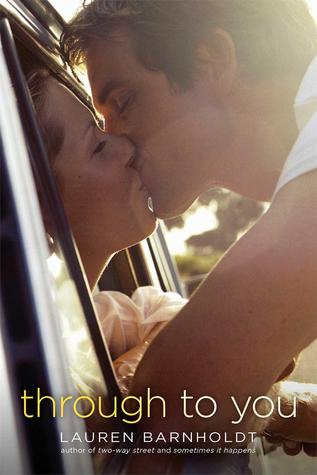 Title: Through To You
Author: Lauren Barnholdt
Series: Stand Alone
Published By: Simon Pulse (July 8, 2014)
Source: ARC Copy Provided by the Publisher
(in exchange for an honest review)
Genre: YA Contemporary Romance
My Rating: 2.5 to 3 Stars
Book Description:
Opposites attract—and then complicate—in this romantic, relatable novel from the author of Two-way Street and Sometimes It Happens.
It starts with a scribbled note in class: I like your sparkle. Harper had casually threaded a piece of blue and silver tinsel through her ponytail in honor of school spirit day. And that carefree, corny gesture is what grabs Penn Mattingly's eye. Penn—resident heartbreaker of the senior class. Reliably unreliable. Trouble with a capital "T." And okay, smolderingly sexy.
Harper's surprised by Penn's attention—and so is Penn. The last thing he needs is a girlfriend. Or even a friend-with-benefits. The note is not supposed to lead to anything.
Oh, but it does. They hang out. They have fun. They talk. They make out. And after a while, it seems like they just click. But Penn and Harper have very different ideas about what relationships look like, in no small part because of their very different family backgrounds. Of course they could talk about these differences—if Penn knew how to talk about feelings.
Harper and Penn understand their attraction is illogical, yet something keeps pulling them together. It's like a crazy roller coaster—exhilarating, terrifying, and amazing all at once. And neither knows how to stop the ride…
This was my first Barnholdt book and I thought it was pretty adorable although angsty at times.
It has everything you would expect from a young adult still in high school, first love, kind of read.
There is heartache and miscommunications, secrets and misconceptions and of course, those fluttery feelings we all remember from our "firsts".
This wasn't exactly the light and fluffy read I was expecting to get although it was light at times, in fact Penn and Harper argue and fight quite a bit throughout the story as they feel each other out and really get to know one another. They are opposite in every way, she is a good girl who follows the rules and questions everything while he is the typical rule breaking bad boy that has had a not so easy life and is totally misunderstood.
I wish I could say I loved Penn and Harper but this book was over before I ever felt like I really got to know or even like either character and by the end I felt like I didn't know or even really care about either of them.
I think this one moved just a little too fast for me and the plot had too many holes while the ending tried to wrap it up a little too neatly.
*All thoughts and opinions are my own and were not influenced by the author or publisher. I was not compensated for this review.*