To say I am happy to be a part of this tour is beyond that. I have been a fan of McGuire's since her very first story and this new novel by her just proved to me all over again why that statement is true.
Hold on to your hearts girls because this newest look into the Maddox boys, is going to try to steal it away.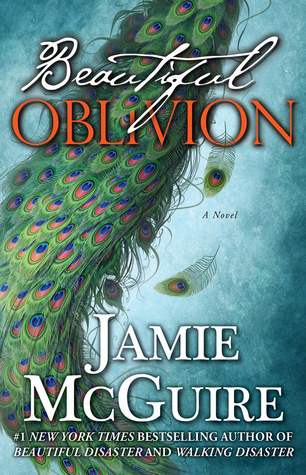 Publication Date: July 1, 2014
Publisher: Atria Books
Series: Book One in the Maddox Brothers
Book Description:
The Beautiful Disaster and Walking Disaster phenomenon continues in the first heart-pounding new adult romance in The Maddox Brothers series.
Fiercely independent Camille "Cami" Camlin gladly moved on from her childhood before it was over. She has held down a job since before she could drive, and moved into her own apartment after her freshman year of college. Now tending bar at The Red Door, Cami doesn't have time for much else besides work and classes, until a trip to see her boyfriend is cancelled, leaving her with a first weekend off in almost a year.
Trenton Maddox was the king of Eastern State University, dating co-eds before he even graduated high school. His friends wanted to be him, and women wanted to tame him, but after a tragic accident turned his world upside down, Trenton leaves campus to come to grips with the crushing guilt.
Eighteen months later, Trenton is living at home with his widower father, and works full-time at a local tattoo parlor to help with the bills. Just when he thinks his life is returning to normal, he notices Cami sitting alone at a table at The Red.
As the baby sister of four rowdy brothers, Cami believes she'll have no problem keeping her new friendship with Trenton Maddox strictly platonic. But when a Maddox boy falls in love, he loves forever—even if she is the only reason their already broken family could fall apart.
In the first installment of the Maddox Brothers books, readers can experience the rush of reading Beautiful Disaster for the first time, all over again.
About the Author:
Jamie McGuire was born in Tulsa, OK. She attended the Northern Oklahoma College, the University of Central Oklahoma, and Autry Technology Center where she graduated with a degree in Radiography.
Her most recent novel, Walking Disaster debuted at #1 on the New York Times, USA Today, and Wall Street Journal bestseller lists. She has also written bestselling contemporary romance Beautiful Disaster, and the Providence series.
Jamie now lives in Enid, OK with her three children and husband Jeff, who is a real, live cowboy. They share their 30 acres with six horses, three dogs, and Rooster the cat.
Darn those irresistible Maddox brothers. Just when I think I have a favorite McGuire pulls another wild card out and throws the game all off course and before I know it, I just want to grab them all and claim them as my own.
If there is one thing McGuire is good at writing, it is a swoon worthy bad boy that defies all the odds. One that captures your heart whether you want him to or not, and will refuse to let go until they are buried so deeply inside, that you will never be the same again.
I knew I was going to get a totally different story for Beautiful Disaster, but what I wasn't expecting were the events in this to coincide with the events in Beautiful Disaster. They travel side by side and it was so much fun to see. To get those little glimpses of Travis that we don't get to see in either Beautiful Disaster or Walking Disaster.
Trent is every bit as wonderful as Travis but without the violet streak that Travis tended to show. In fact I think those that found Travis too alpha and dominating in BD will love this one because Trent, while having that protective streak that I think all the Maddox boys have, is far more easy going and more stable with his emotions. Those tender moments with Olive were enough to melt even the most callous of hearts.
And Cami was every bit his match. I had nothing but love for the fierce independent girl that stole Trent's heart. If there is one thing you can say about the Maddox boys is that when they fall, they fall hard and it is always for someone who is completely worthy of it.
There were so many surprises in this that it truly was a fabulous read. So many heart felt moments and pure raw honestly. I couldn't help but fall in love with it all.
Like it's title, this was beautifully done and I loved every single minute of it. I can't wait to see which Maddox brother will be the focus of the next story.
*All thoughts and opinions are my own and were not influenced by the author or publisher. I was not compensated for this review.*
http://pages.simonandschuster.com/jamiemcguire/beautifuloblivion