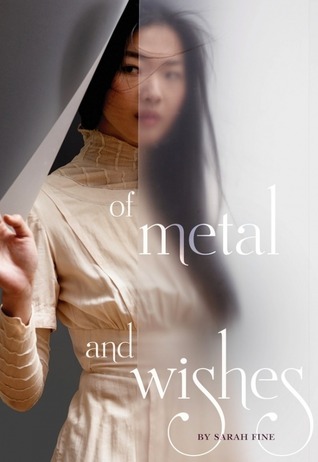 Title: Of Metal and Wishes
Author: Sarah Fine
Series: Book One in the Of Metal and Wishes Series
Published By: Margaret K. McElderrly (August 5, 2014)
Source: ARC Copy Provided by the Publisher
(in exchange for an honest review)
Genre: YA Fantasy
My Rating: 5 Stars!
Book Description:
There are whispers of a ghost in the slaughterhouse where sixteen-year-old Wen assists her father in his medical clinic—a ghost who grants wishes to those who need them most. When one of the Noor, men hired as cheap factory labor, humiliates Wen, she makes an impulsive wish of her own, and the Ghost grants it. Brutally.
Guilt-ridden, Wen befriends the Noor, including their outspoken leader, a young man named Melik. At the same time, she is lured by the mystery of the Ghost and learns he has been watching her … for a very long time.
As deadly accidents fuel tensions within the factory, Wen must confront her growing feelings for Melik, who is enraged at the sadistic factory bosses and the prejudice faced by his people at the hand of Wen's, and her need to appease the Ghost, who is determined to protect her against any threat—real or imagined. She must decide whom she can trust, because as her heart is torn, the factory is exploding around her … and she might go down with it.
I have been a huge fan of Ms. Fine's beautiful and sometimes dark and emotional writing since picking up her very first book. She is one of those authors that completely gets you immersed in the world she has created and before you know it you are completely lost to it.
Her beautiful and poignant writing is something to be revered and cherished. Something that can't be rushed or hurried as you dive into the breathtaking prose and soak it all in.
The almost steampunk Phantom of the Opera feel to this is so well done, so captivating that once you start you don't want to stop reading. You are immediately drawn right into Wen's world.
The darkness to this is just wonderful and yes, I know how that sounds but let me explain, Fine has a way of making even dark worlds full of hopelessness and despair, beautiful. You can see them, they become tangible so much so that it seems like you can reach through the very pages and feel the world around you and experience it for yourself. That bleakness, that hopelessness is Wen's world and because of it, it makes those rare happy times, those rare moments of sunshine so much brighter and so much better.
You want to cheer on the good guys and boo at the bad guys and even the monsters, you will find irresistible.
This was so well done I am dying to get my hands on the second book and so very glad that Wen's story isn't over yet, in fact, I have a suspicion that it has only just begun.
*All thoughts and opinions are my own and were not influenced by the author or publisher. I was not compensated for this review.*