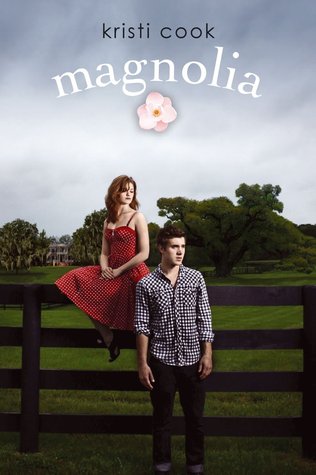 Title: Magnolia
Author: Kristi Cook
Series: Stand Alone
Published By: Simon & Schuster (August 5, 2014)
Source: ARC Copy Provided by the Publisher
(in exchange for an honest review)
Genre: YA Contemporary
My Rating: 4 Stars!
Book Description:
In Magnolia Branch, Mississippi, the Cafferty and Marsden families are southern royalty. Neighbors since the Civil War, the families have shared vacations, holidays, backyard barbecues, and the overwhelming desire to unite their two clans by marriage. So when a baby boy and girl were born to the families at the same time, the perfect opportunity seemed to have finally arrived.
Jemma Cafferty and Ryder Marsden have no intention of giving in to their parents' wishes. They're only seventeen, for goodness' sake, not to mention that one little problem: They hate each other! Jemma can't stand Ryder's nauseating golden-boy persona, and Ryder would like nothing better than to pretend stubborn Jemma doesn't exist.
But when a violent storm ravages Magnolia Branch, it unearths Jemma's and Ryder's true feelings for each other as the two discover that the line between love and hate may be thin enough to risk crossing over.
1. inspiring love or affection.
That one word pretty much sums up my feelings for this read. It was so heart warming, fun, magical, charming and lovable that I really shouldn't have to say more, but I will.
This is my first book by Cook and I am so very glad that I have more of her books to read just sitting in my TBR pile because I loved her writing and her characters so much so that I had a big smile on my face for the rest of the day after finishing Magnolia.
I have said this before but I really do live for these feel good stories. They can make a bad day good, a good day better and just uplift you and make you want to see the whole world through rose colored glasses. A bit dramatic of me? Yeah, okay maybe but you still get the point. I loved these reads. They make reading for me worth while and make me remember why I love to read in the first place.
If you love this genre, this is one read you are going to want to pick up and trust me on this one, you will devour it in one sitting. You won't be able to get enough of Jemma and Ryder's story. These not so star crossed lovers bound to be with one another (if their parents have any say about the matter) will make you laugh, make you smile, and warm your heart.
They loathe each other, they can't stand each other, and yet, and yet, they love each other too. These are the kind of reads that are believable to me, after all, isn't there such a very fine line between love and hate?
*All thoughts and opinions are my own and were not influenced by the author or publisher. I was not compensated for this review.*