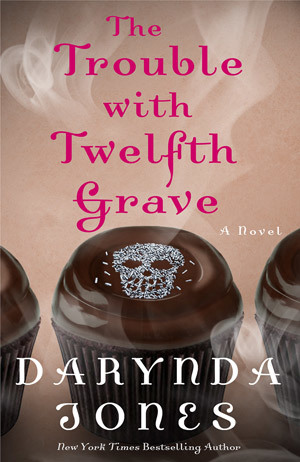 Title: The Trouble with Twelfth Grave
Author: Darynda Jones
Series: Book Twelve in the Charley Davidson Series
Published By: St. Martin's (October 31, 2017)
Source: ARC Provided by the Publisher (in exchange for an honest review)
Genre: Urban Fantasy
My Rating: 4.5 Stars!
Book Description:
Grim Reaper Charley Davidson is back in the twelfth installment of Darynda Jones' New York Times bestselling paranormal series.
Ever since Reyes escaped from a hell dimension in which Charley accidently trapped him, the son of Satan has been brimstone-bent on destroying the world his heavenly Brother created. His volatile tendencies have put Charley in a bit of a pickle. But that's not the only briny vegetable on her plate. While trying to domesticate the feral being that used to be her husband, she also has to deal with her everyday life of annoying all manner of beings—some corporeal, some not so much—as she struggles to right the wrongs of society. Only this time she's not uncovering a murder. This time she's covering one up.
Add to that her new occupation of keeping a startup PI venture—the indomitable mystery-solving team of Amber Kowalski and Quentin Rutherford—out of trouble and dealing with the Vatican's inquiries into her beloved daughter, and Charley is on the brink of throwing in the towel and becoming a professional shopper. Or possibly a live mannequin. But when someone starts attacking humans who are sensitive to the supernatural world, Charley knows it's time to let loose her razor sharp claws. Then again, her number one suspect is the dark entity she's loved for centuries. So the question becomes, can she tame the unruly beast before it destroys everything she's worked so hard to protect?
If I said that I wasn't both eager and tepid to open this latest installment in the Charley Davidson series, I would both be a coward and a liar. I wanted so bad to get my hands on this story with the way that book eleven ended, it was heart wrenching but at the same time, I was so very nervous to do so. In fact once I got my ARC, I sat on it for a few days because I just couldn't bring myself to open it yet.
I didn't want things to change. I can't stand change and there was a big one at the end of the last book. A heart breaking oh my freaking heck change that I didn't see coming even though I probably should have.
Sometimes denial is so great isn't it?
So I had to put my big girl panties on and finally break down and crack it open. Armed with a bag of chocolate, a water bottle and a whole heck of a lot of Kleenexes, just in case.
This book. This series. This freaking author.
She knows how to both make me laugh, make me angry, and tug at my heart strings and she did all of them, sometimes all within the same chapter.
This group of friends, this family, once again proved how incredible they are. How I want them, every single one of them, in my life, if you know, they weren't all fictional and potentially hazardous to my health.
I loved every single minute and once again Jones pulled no punches. She tore things open, exposed them, bruised them and they tried to knit them all back together again only to repeat the process. She is cruel, and mean, ad I love her for it.
The ending, was once again, brutal and once again, left me longing for me.
*All thoughts and opinions are my own and were not influenced by the author or publisher. I was not compensated for this review.*