Hope you are all having a fantastic Thanksgiving week! What better way to show our thanks to those amazing authors out there than by sharing our most favorite books with everyone. This week is all about those books that are underrated. You know the ones, the ones that are fabulous but for whatever reason not a lot of people know about them or have read them.
Today I have Christy from Christy's Love of Books here to tell us just a couple of those books and why we should pick them up and read them. And also Heidi from Rainy Day Ramblings. Both Christy and Heidi are bloggers I also consider friends. Both have fantastic blogs so do't forget to check them out as well!
First up is Christy,
whenever she recommends a book to me, I know I need to take notice because she finds some amazing hidden gems to read. Needless to say, my TBR pile is as big as it is in part because of her, she has yet to let me down (so no pressure or anything with your next recommendation). ;)
So check out her recommendations and grab a couple, or you know, all of them because I know you won't regret it.
Must Love Otters by Eliza Gordon
Book Description:
Hollie Porter is the chairwoman of Generation Disillusioned: at twenty-five years old, she's saddled with a job she hates, a boyfriend who's all wrong for her, and a vexing inability to say no. She's already near her breaking point, so when one caller too many kicks the bucket during Hollie's 911 shift, she cashes in the Sweethearts' Spa & Stay gift certificate from her dad and heads to Revelation Cove, British Columbia. One caveat: she's going solo. Any sweethearts will have to be found on site.
Hollie hopes to find her beloved otters in the wilds of the Great White North, but instead she's providing comic relief for staff and guests alike. Even Concierge Ryan, a former NHL star with bad knees and broken dreams, can't stop her from stumbling from one (mis)adventure to another. Just when Hollie starts to think that a change of venue doesn't mean a change in circumstances, the island works its charm and she starts to think she might have found the rejuvenation she so desperately desires. But then an uninvited guest crashes the party, forcing her to step out of the discomfort zone where she dwells and save the day … and maybe even herself in the process.
It's a hilarious and adorable little romance. The sequel is great too!
The Garden of Small Beginnings by Abbi Waxman - This is such a fun book that had me in stitches from laughter.
The Burning World by Isaac Marion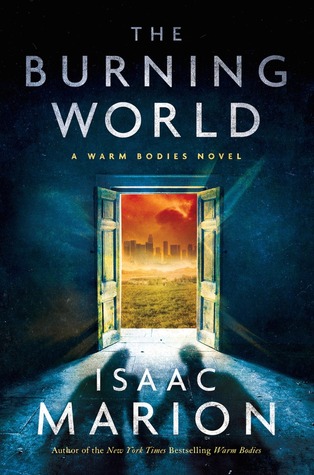 Book Description:
R is recovering from death.
He's learning how to breathe, how to speak, how to be human, one clumsy step at a time. He doesn't remember his old life and he doesn't want to. He's building a new one with Julie.
But his old life remembers him. The plague has another host far more dangerous than the Dead. It's coming to return the world to the good old days of stability and control and the strong eating the weak, and stopping it will require a frightening journey into the surreal wastelands of America—and the shadowy basement of R's mind.
Okay, this is the sequel to Warm Bodies, which is actually well known. This one isn't getting the attention it deserves, though, and it bums me out. It really feels like a whole other beast and, in my opinion, a lot better than the first book.
Black Iris by Leah Raeder
Book Description:
It only took one moment of weakness for Laney Keating's world to fall apart. One stupid gesture for a hopeless crush. Then the rumors began. Slut, they called her. Queer. Psycho. Mentally ill, messed up, so messed up even her own mother decided she wasn't worth sticking around for.
If Laney could erase that whole year, she would. College is her chance to start with a clean slate.
She's not looking for new friends, but they find her: charming, handsome Armin, the only guy patient enough to work through her thorny defenses—and fiery, filterless Blythe, the bad girl and partner in crime who has thorns of her own.
But Laney knows nothing good ever lasts. When a ghost from her past resurfaces—the bully who broke her down completely—she decides it's time to live up to her own legend. And Armin and Blythe are going to help.
Which was the plan all along.
Because the rumors are true. Every single one. And Laney is going to show them just how true.
She's going to show them all.
It's a dark read with an unreliable narrator and effed up characters. I love the heck out of it!
Thank you so much Christy for all the fabulous recommendations!!
And now Heidi's recommendations. I love whenever Heidi recommends me a book because I know it will be something I might not have even looked at twice yet once I've read it, I can't believe I went so long without having said book in my life. Heidi's blog is fabulous as well because she reads a wide variety of books and not all of them are typical A list books, as in not the current rage or hot item YA read. Instead she reads whatever suits her at the time and so many of them are fabulous and new to me reads that I love discovering each day what new gem I will find. Definitely check out her blog with the list above if you haven't visited her yet.
Heidi's Recommendations:
I am delighted that Ali asked me to share some of my favorite reads that I think more people
need to read. Here are my picks:
Lilac Bouquet by Carolyn Brown: I adore Carolyn Brown, she writes the best comfort books.
This book ended up being a five star favorite for me, and I feel like it has gotten overlooked.
This was a story with heart and soul. It made me sad and it made me happy. This is a book that
reminded me to grab hold of life and live it. I could go on and on, but I am not going to. Just take my word and read this book.
Book Description:
Come hell or high water, Emmy Jo Massey will have a wedding. After three generations of Massey women with children out of wedlock, she wants the whole town of Hickory, Texas, to witness the legitimacy of her union with Logan Grady. But dream weddings aren't cheap. So she accepts a highly lucrative stint as a home health assistant to retired realtor, and town recluse, Seth Thomas—a decision her great-grandmother Tandy is dead-set against.
Seth isn't happy about it, either. The eighty-two-year-old doesn't want a "babysitter"—much less a Massey—something he makes clear when Emmy arrives at his house, an empty mansion built for the woman who broke his heart. But as Emmy stays and the two eventually open up to each other, she learns the reason behind a feud between Seth, Tandy, and Logan's grandfather Jesse Grady that goes back six decades. She also uncovers a secret that forever changes how she sees her past and her future…
Ellie Jordan Series by J.L. Bryan: I was lucky enough to become acquainted with Mr. Bryan
early in my blogging journey. He has been kind enough to send me copies of all of his books from the Ellie Jordan, which is a series I love. If you like ghost stories, this is the series for you.
It follows Ellie Jordan whose job is to hunt and trap ghosts. Each book delivers another
terrifying tale, and I am always eager for the next one. The first book is free on Amazon, so do
yourself a favor and check it out.
Book Description:
Ellie Jordan's job is to catch and remove unwanted ghosts. Part detective, part paranormal exterminator, Ellie operates out of Savannah, Georgia, one of the oldest and most haunted cities in North America.
When a family contacts her to deal with a disturbing presence in the old mansion they've recently purchased, Ellie first believes it to be a typical, by-the-book specter, a residual haunting by a restless spirit. Instead, she finds herself confronting an evil older and more powerful than she'd ever expected, rooted in the house's long and sordid history of luxury, sin, and murder. The dangerous entity seems particularly interested in her clients' ten-year-old daughter.
Soon her own life is in danger, and Ellie must find a way to exorcise the darkness of the house before it can kill her, her clients, or their frightened young child.
Retribution Rails by Erin Bowman: I was a huge fan of Vengeance Road when it came out in
2015. Bowman delivers another winner with Vengeance Road. This is a companion novel, but it is just as thrilling, gritty and intense as the first. If you love a good western, do not miss this one. I am surprised that it isn't getting more buzz.
Book Description:
REDEMPTION IS NEVER FREE
When Reece Murphy is forcibly dragged into the Rose Riders gang because of a mysterious gold coin in his possession, he vows to find the man who gave him the piece and turn him over to the gang in exchange for freedom. Never does he expect a lead to come from an aspiring female journalist. But when Reece's path crosses with Charlotte Vaughn after a botched train robbery and she mentions a promising rumor about a gunslinger from Prescott, it becomes apparent that she will be his ticket to freedom—or a noose. As the two manipulate each other for their own ends, past secrets are unearthed, reviving a decade-old quest for revenge that may be impossible to settle.
In this thrilling companion to Vengeance Road, dangerous alliances are formed, old friends meet new enemies, and the West is wilder than ever.
Autoboyography by Christina Lauren: This book is absolutely fantastic. It is beautifully written,
thought provoking and wonderful. The story features a forbidden romance between a bisexual boy living in Provo, Utah, Mormon country. He falls for the bishop's Mormon son. What follows is for you to find out. I was amazed by this one.
Book Description:
Three years ago, Tanner Scott's family relocated from California to Utah, a move that nudged the bisexual teen temporarily back into the closet. Now, with one semester of high school to go, and no obstacles between him and out-of-state college freedom, Tanner plans to coast through his remaining classes and clear out of Utah.
But when his best friend Autumn dares him to take Provo High's prestigious Seminar—where honor roll students diligently toil to draft a book in a semester—Tanner can't resist going against his better judgment and having a go, if only to prove to Autumn how silly the whole thing is. Writing a book in four months sounds simple. Four months is an eternity.
It turns out, Tanner is only partly right: four months is a long time. After all, it takes only one second for him to notice Sebastian Brother, the Mormon prodigy who sold his own Seminar novel the year before and who now mentors the class. And it takes less than a month for Tanner to fall completely in love with him.
The Garden of Small Beginnings by Abbi Waxman: I have been singing this books praises since
I read it last spring. I have begged all my blogger friends to read this one because I loved it so much. This is a heart warming, funny, and emotional story as one woman learns to live and love again after joining a garden group. Think Breakfast Club meets the gardening club. Read it.
Book Description:
Not since Good Grief has a book about a young widow been so poignant, funny, original, and utterly believable. A compelling debut novel about loss.
Give grief a chance ...
Lilian Girvan has been a single mother for three years - ever since her husband died in a car accident. One mental breakdown and some random suicidal thoughts later, she's just starting to get the hang of this widow thing. She can now get her two girls to school, show up to work, and watch TV like a pro. The only problem is she's becoming overwhelmed with being underwhelmed.
At least her textbook illustrating job has some perks - like actually being called upon to draw whale genitalia. Oh, and there's that vegetable-gardening class her boss signed her up for. Apparently being the chosen illustrator for a series of boutique vegetable guides means getting your hands dirty, literally. Wallowing around in compost on a Saturday morning can't be much worse than wallowing around in pajamas and self-pity.
After recruiting her kids and insanely supportive sister to join her, Lilian shows up at the Los Angeles Botanical Garden feeling out of her element. But what she'll soon discover - with the help of a patient instructor and a quirky group of gardeners - is that into every life a little sun must shine, whether you want it to or not…
I can't tell you how much I loved all of these books. They are wonderful, and I want more
people to read them!
Thanks, Ali for hosting this fun event. I can't wait to check out some of the other
recommendations.
Thank you so much Heidi for being here and for all the wonderful new books to check out as well!