I'm so excited to be a part of this tour, not only do I love this author but this time around she is not only writing a heart stopping romance but an action packed mystery as well and I couldn't be happier about it. You guys, it was so much fun and I can't wait to tell you all about it.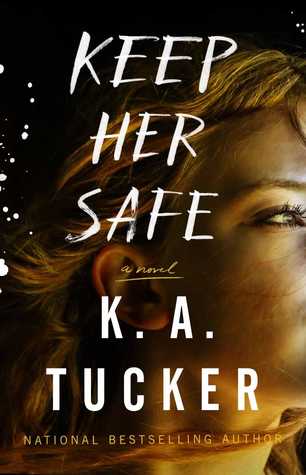 Author: K.A. Tucker
Published By: Atria Books (January 23, 2018)
Source: ARC Provided by the Publisher (in exchange for an honest review)
Book Description:
Noah Marshall has had a privileged life thanks to his mother, the highly decorated chief of the Austin Police Department. But all that changes the night she reveals a skeleton that's been rattling in her closet for years: she doesn't deserve her commendations or her medals—in fact, she deserves to be locked behind bars for what she did to a fellow officer to save her own reputation. When she finally succumbs to the guilt of destroying an innocent family's life, she leaves Noah alone to carry the burden of this shocking secret, which she makes him vow never to share.
Gracie Reynolds wasn't born into trailer park life, but after ten years of learning how to survive in The Hollow, it's all she knows anymore. At least here people don't care that she is a byproduct of a white mother and a black father. And they certainly don't care that her dad was a corrupt Austin cop. Here, she and her mother can almost forget the shame he brought upon them…until a man who clearly doesn't belong shows up on her doorstep one night, asking questions.
Together, Noah and Gracie set out to uncover the truth about the Austin police department's dark and messy past­—but the scandal they uncover is bigger than they bargained for, and goes far higher up than they ever imagined.
About the Author:
K.A. Tucker writes captivating stories with an edge.
She is the USA Today bestselling author of 14 books, including Ten Tiny Breaths and Burying Water, and her latest Adult Suspense novel, He Will Be My Ruin. Her books have been featured in national publications including USA Today, Globe & Mail, Suspense Magazine, and Publisher's Weekly.
K.A. Tucker currently resides in a quaint town outside of Toronto with her husband, two beautiful girls, and a Chug.
K.A. Tucker has a wonderful ability to be able to completely capture you with her stories from the very first page down to the last. They are captivating, thrilling and will leave you with an ending that is always as every bit as satisfying as it was fulfilling.
Her mysteries even more so.
I read a lot of mysteries and because I have for many years now, I've come to be able to predict a lot of what is going to happen in a story and sometimes that can leave the story lacking. But Tucker manages to keep me on my toes and even guessing until the very end and I couldn't love her more for it.
I love a story that is not only a tad bit darker than I expected but also has a romance that is every bit as sweet as I expected and this story has it in ten fold.
There is something about a good cop murder mystery that is so alluring and when I saw the synopsis for this I knew I had to read it and even though it was hard to put this down, I wanted to savor it as well and take it all in and adsorb every last word of it.
Truly another wonderfully told, wonderfully written story that many are going to be captivated by.
*All thoughts and opinions are my own and were not influenced by the author or the publisher. I was not compensated for this review.*