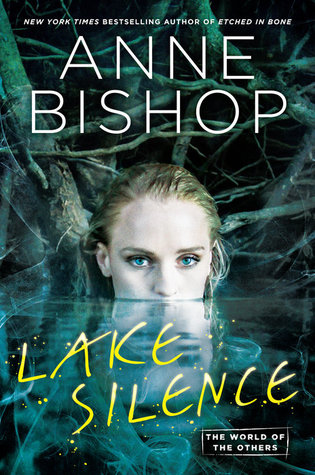 Title: Lake Silence
Author: Anne Bishop
Series: Book Six in the Others Series
Published By: Berkley (Ace) (March 6, 2018)
Genre: Urban Fantasy
Source: ARC Provided by the Publisher
(in exchange for an honest review)
My Rating: 4.5 Stars!
Book Description:
In this thrilling and suspenseful fantasy, set in the world of the New York Times bestselling Others series, Vicki DeVine and her lodger, the shapeshifter Aggie Crowe, stumble onto a dead body . . . and find themselves enmeshed in danger and dark secrets.
Human laws do not apply in the territory controlled by the Others–vampires, shapeshifters, and paranormal beings even more deadly. And this is a fact that humans should never, ever forget . . .
After her divorce, Vicki DeVine took over a rustic resort near Lake Silence, in a human town that is not human controlled. Towns like Vicki's have no distance from the Others, the dominant predators that rule most of the land and all of the water throughout the world. And when a place has no boundaries, you never really know what's out there watching you.
Vicki was hoping to find a new career and a new life. But when her lodger, Aggie Crowe–one of the shapeshifting Others–discovers a dead body, Vicki finds trouble instead. The detectives want to pin the man's death on her, despite the evidence that nothing human could have killed the victim. As Vicki and her friends search for answers, things get dangerous–and it'll take everything they have to stay alive.
I have been in love with Simon, Meg, Vlad, Tessa and all the vanguard in the Others series since the very first book and when Simon and Meg's journey ended at book five, I wasn't ready to say goodbye to them. I don't think anyone that has read the magical, slightly horrifying world that Bishop has created in the Others, was. How can one ever be ready to say goodbye to beloved characters?
Finding out book six would be a spin off of this amazing world was both a delight, elating and a bit terrifying.
How could I possible relinquish control of this amazing world to a different set of characters in a different part of the world that Bishop had us all both fearing and loving?
To say I was a little scared was an understatement.
With trepidation I opened Lake Silence and with a deep breath, a bag of chocolate near me and a blanket to snuggle up with, I took the plunge...slowly. A toe at first and then, yep, I was hooked and I jumped right in the rest of the way. All the apprehension and fear gone as I was once again immersed in this utterly terrifying and yet fascinating world.
I loved seeing some old faces and getting a lot of new ones. Even after my initial reaction of wanting this to be about the Others I already knew and loved, it really was so nice to see some fresh faces and more importantly to learn more about the Elders! I'm so glad that we really get to see these glimpses of more of what the Others are and how they think and feel about each other and humans. This was by far one of the more detailed and maybe even more interesting looks into how their hierarchy works and functions.
All in all, I am once again hooked and can't wait for more.
*All thoughts and opinions are my own and were not influenced by the author or publisher. I was not compensated for this review.*