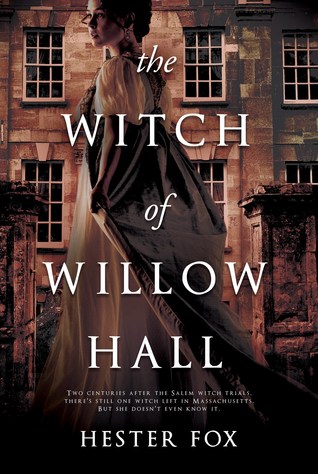 Title: The Witch of Willow Hall
Author: Hester Fox
Series: Stand Alone
Genre: Historical Fantasy
Published By: Graydon House (October 2, 2018)
Source: ARC Provided by the Publisher
(in exchange for an honest review)
My Rating: 4 Stars!
Book Description:
Two centuries after the Salem witch trials, there's still one witch left in Massachusetts. But she doesn't even know it.
Take this as a warning: if you are not able or willing to control yourself, it will not only be you who suffers the consequences, but those around you, as well.
New Oldbury, 1821
In the wake of a scandal, the Montrose family and their three daughters—Catherine, Lydia and Emeline—flee Boston for their new country home, Willow Hall.
The estate seems sleepy and idyllic. But a subtle menace creeps into the atmosphere, remnants of a dark history that call to Lydia, and to the youngest, Emeline.
All three daughters will be irrevocably changed by what follows, but none more than Lydia, who must draw on a power she never knew she possessed if she wants to protect those she loves. For Willow Hall's secrets will rise, in the end…
Beautifully woven with a dark mysterious gothic feel, The Witch of Willow Hall was a story that was easy to get immersed in and hard to put down.
Rich is history and atmosphere it was easy to picture the lush but sinister woods that Willow Hall sits on and transports you right into the heat of the summer and then the chilly winds of autumn as the story progresses and more and more secrets are unfolded and revealed for both the Montrose family and Willow Hall itself.
With an almost morose feel the house and surrounding woods seemingly take on a life of their own as more and more of the story comes together and secrets are spilled, legends revealed, and mysteries solved.
With just the right amount of romance, intrigue, and scandal, not to mention ghosts and magic, The Witch of Willow Hall was every bit as rich in detail and darkness as it could be idyllic and charming.
*All thoughts and opinions are my own and were not influenced by the author or publisher. I was not compensated for this review.*