I'm so very excited for the release of the final book in the Charley Davidson series. I have loved this series from the very beginning and while it is bittersweet to say goodbye to these amazing characters, I have been so very anxious to see how it would all come together. But first, I am reposting my review of the first book in the series, First Grave on the Right, because after all, this is where is all began.
And not only do I have that but a Q&A from Darynda and an amazing giveaway too so stick around and check it all out!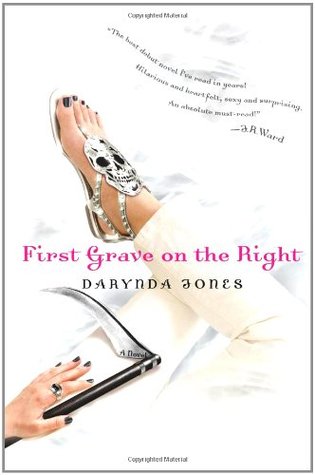 Title: First Grave on the Right
Author: Darynda Jones
Series: Book One in the Charley Davidson Series
Published By: St. Martin's (February 1, 2011)
Genre: Urban Fantasy
Book Description:
This whole grim reaper thing should have come with a manual.
Or a diagram of some kind.
A flow chart would have been nice.
Charley Davidson is a part-time private investigator and full-time grim reaper. Meaning, she sees dead people. Really. And it's her job to convince them to "go into the light." But when these very dead people have died under less than ideal circumstances (like murder), sometimes they want Charley to bring the bad guys to justice. Complicating matters are the intensely hot dreams she's been having about an entity who has been following her all her life...and it turns out he might not be dead after all. In fact, he might be something else entirely. But what does he want with Charley? And why can't she seem to resist him? And what does she have to lose by giving in?
With scorching-hot tension and high-octane humor, First Grave on the Right is your signpost to paranormal suspense of the highest order.
About the Author:
NYTimes and USA Today Bestselling Author Darynda Jones has won numerous awards for her work, including a prestigious RITA, a Golden Heart, and a Daphne du Maurier. As a born storyteller, she grew up spinning tales of dashing damsels and heroes in distress for any unfortunate soul who happened by, annoying man and beast alike. She currently has two series with St. Martin's Press, the Charley Davidson Series and the Darklight Trilogy. Darynda lives in the Land of Enchantment, also known as New Mexico, with her husband of more than 25 years and two beautiful sons, the Mighty, Mighty Jones Boys.
This is one of those series that you need to make sure you have nothing else going on that day before starting because you certainly aren't going to get anything else done after you have started.
This book will consume all of your time, all of your thoughts and the characters will stay with you and refuse to leave.
Charley is such a great character. You haven't met true sarcasm until you have met Charley Davidson.
I can't remember the last time I laughed out loud so many times while reading a book, which by the way, elicited lots of strange looks from my family members, but I couldn't help it, there were so many funny one liners and even when Charley was talking and thinking to herself, she was hilarious, in fact, most of her inner dialogue was probably some of the funniest moments in the book.
And can we just talk about Reyes for a moment? Actually lets not, I might get distracted again and never finish this review.
Lets just say he is definitely swoon worthy in all his devilish good looks and ways.
This is a must read series. I can't rave about it enough and it really is just something you have to read and experience for yourself!
Q&A With Darynda!
How did you come up with Charley?
So, I'm lying in bed one morning, waiting for my turn in the shower, when Charley popped into my head in all her glory. I loved her from the get-go. I will add that I was looking for her. I had just typed The End on my second complete manuscript, a YA titled Death and the Girl Next Door which later sold to my amazing editor along with the Charley books. So, I was craving another project. I knew I wanted it to be adult and paranormal. That was all I had. And then Charley walked in.
What has it been like planning and writing this series, and how does it feel to be wrapping it up?
I had no clue! I dreamed, of course. We all do that. But for that dream to become a reality…it's quite surreal. I have the best job in the world. Planning and writing the last two books have been bittersweet. I love writing these books so much, so the fact that it's coming to an end is a little heartbreaking, but I want to go out with a bang. Like a HUGE one. I hope everyone loves reading them as much as I've loved writing them.
Are there any side characters or plots you wish you would have developed more?
Actually, yes. In Fifth Grave Past the Light, I brought in a character named Nicolette Lemay, gave her an insanely cool gift, then never brought her back in again. We see her briefly in Twelfth Grave, but I wish I'd done more with her.
Can you give us a sneak peek into how it all ends? What do you hope readers feel as they reach the last page?
I am very hopeful that readers will feel a sense of happiness, closure and (dare I dream?) euphoria. All I can say is that this book is truly darkest before the dawn. Charley and Reyes have accidentally opened a hell dimension within our own, and they have to figure out how to close it before it takes over the world. But it's expanding exponentially, and soon there will be nothing left of the world as we know it. But with a little help from Charley's departed mother, one clue leads Charley in the right direction and, hopefully, to the secret to stopping the hell dimension and save all of humanity. Sadly, she only has three days to do it.
What's the next project you're working on?
Right now I am working on a brand new series, a trilogy set in a small town in New Mexico with a sheriff named Sunshine, a missing girl named Olivia, and a murder suspect named Levi. Too bad she is in way over her head, especially since the missing girl is her daughter's best friend and Sunshine has been in love with Levi since she could breathe.
And let's not forget the last book in the series releases this coming January. You guys, it was so good! I'm so excited for everyone to read it, you are going to love it!
Don't forget to check out the giveaway below for your chance to win an ARC!
Title: Summoned to Thirteenth Grave
Author: Darynda Jones
Series: Book Thirteen in the Charley Davidson Series
Published By: St. Martin's (January 15, 2019)
Genre: Urban Fantasy
Source: ARC Provided by the Publisher (in exchange for an honest review)
Book Description:
Grim Reaper Charley Davidson is back in the final installment of Darynda Jones' New York Times bestselling paranormal series!
Charley Davidson, Grim Reaper extraordinaire, is pissed. She's been kicked off the earthly plain for eternity – which is the appropriate amount of time to make a person starkraving mad. But someone's looking out for her, and she's allowed to return after a mere hundred years in exile. Is it too much to hope for that not much has changed? Apparently it is. Bummer.
She's missed Reyes and her daughter, Beep, but now that she's back on earth, it's time to put to rest burning questions that need answers. What happened to her mother? How did she really die? Who killed her? And are cupcakes or coffee the best medicine? It all comes to a head in an epic showdown between good and evil in this final smart and hilarious novel.
*Amazon*B&N*
It is so very hard to review perfection isn't it?
I mean where do you even begin, and let's face it, this series has been pretty much that, from the very beginning. And while this has been such a bittersweet experience, it has also been one I won't soon forget.
I adore these characters and while they aren't my babies like they are Ms. Jones, they are still, well, family to me. I love them, I care for them, and I will miss them like crazy.
Reading this book has not only pushed me past my emotional limits but has tested them as well. So many feels.
It started with simply both wanting to devour and savor the experience of it. Heartbreak at knowing this was it for Charley and Reyes and all these amazing characters and yet, also knowing that I had to get through it, because I couldn't wait to see what happened. Couldn't wait to be immersed back into their world.
So with a heart both beating fast to know what would happen and slowly breaking at realizing this was it, I soldiered on and dove straight in, head (and heart) first.
And oh what an experience! I relished it, I devoured it. I soaked it up and in and...it was amazing. Everything I was use to, everything I never thought it could be and everything I knew it could.
The classic Charley humor, the love, the cases, the discoveries, the revelations. The loses, the bemoaning. Just so very much.
I loved it and the ending, while perfect, also left me wanting more. That spin-off series, oh man, it better get here soon.
All in all, that word again, perfection.
Well done Ms. Jones, well done.
a Rafflecopter giveaway