Title: Touch of Evil
Author: Cecy Robson
Series: Book Ten in the Weird Girls Series; Book One in the Touch Series
Published: October 13, 2020
Source: ARC provided by the tour host in exchange for an honest review.
Book Description:
The award-winning Weird Girls urban fantasy romance series continues to blow away modern fantasy and adventure fans with heart-stopping action and romance. Centered around four unique and powerful sisters, it's time for Emme Wird, the youngest sister, to step into the supernatural spotlight.
Emme Wird, the healer and powerful telekinetic in the Wird family, hasn't had the best of luck with males. While her sisters have found their mates and forever loves, Emme has found males that are better left as lost. Is a decent meal with polite conversation too much to ask for? Yes, it is.
When a pack member that Emme has dinner with is discovered dead and dismembered, it is up to Emme and her werewolf friend, Bren, to solve the murder. But spine-tingling danger and touches with evil have ways of bringing close friends closer.
Could the male that Emme searches for be right in front of her? Or will evil snatch him away from her, just as it did once before?
About the Author: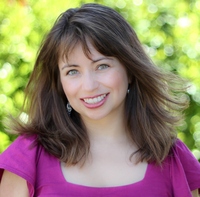 CECY ROBSON is an author of contemporary romance, young adult adventure, and award-winning urban fantasy. A double RITA® 2016 finalist for Once Pure and Once Kissed, and a published author of more than eighteen titles, you can typically find her on her laptop writing her stories or stumbling blindly in search of caffeine.
I've been a fan of the Wird (Weird) sisters from the very action packed, romance filled, swoon worthy, heart pounding beginning. There really is nothing else quite like this series.
It takes my breath away and I look forward to each new installment with excitement and anticipation but I can say without a shadow of a doubt, I was even more excited than normal when I learned that finally, finally! the next installment would be all about Bren and Emme.
I've loved smart mouthed, sassy, mysteriously brooding Bren from the very beginning and couldn't wait to learn more about this broken wolf in all his shapes and forms. And Emme? What's not to love about this loving soft spoken favorite Wird sister?
And while this didn't quite go in the direction I was truly hoping it would, I have no doubts that Cecy will do these two justice in the end and I can't wait to read more to get there!
This series continues to be so much fun, so dynamic, and so very addicting and I can't wait to see Bren and Emme grow with each new page. chapter, and story.