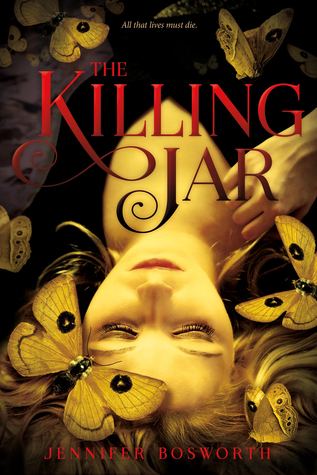 Title: The Killing Jar
Author: Jennifer Bosworth
Series: Stand Alone
Published By: Ferrar, Straus, and Giroux (January 12, 2016)
Source: ARC Copy Provided by the Publisher
(in exchange for an honest review)
Genre: YA Fantasy
My Rating: 3 Stars
Book Description:
"I try not to think about it, what I did to that boy."
Seventeen-year-old Kenna Marsden has a secret.
She's haunted by a violent tragedy she can't explain. Kenna's past has kept people—even her own mother—at a distance for years. Just when she finds a friend who loves her and life begins to improve, she's plunged into a new nightmare. Her mom and twin sister are attacked, and the dark powers Kenna has struggled to suppress awaken with a vengeance.
On the heels of the assault, Kenna is exiled to a nearby commune, known as Eclipse, to live with a relative she never knew she had. There, she discovers an extraordinary new way of life as she learns who she really is, and the wonders she's capable of. For the first time, she starts to feel like she belongs somewhere. That her terrible secret makes her beautiful and strong, not dangerous. But the longer she stays at Eclipse, the more she senses there is something malignant lurking underneath it all. And she begins to suspect that her new family has sinister plans for her…
I've started and restarted this review many times and the truth of the matter is, I have no idea what my complete and finals thoughts are on this book.
It was such a strange and thrilling mix of fantasy, romance, and mystery, let alone the twists and turns and the complete feeling of bizarreness that was this read, and because of the mix, I still can't quite grasp all my emotions on how I feel about it.
To say it was anything but the norm is an understatement. To say it was slightly dark, mysterious, and unusual is better, but still doesn't grasp all this book as to offer.
It isn't perfect or even well plotted at times but it still drew me in and made me want to keep reading yet it was down right strange but in a good way that messed with your head just slightly enough to keep you guessing and shaking your head at all the weirdness happening in Kenna's life and family.
Was this a good read? Yes it was albeit strange and not what I was expecting but as we all know, that isn't necessarily a bad thing, especially in this very saturated genre of sameness. But still unusual but fun.
Overall if you are looking for something completely out there and completely unbelievable but still entertaining because of it, then this is the read for you.
*All thoughts and opinions are my own and were not influenced by the author or publisher. I was not compensated for this review.*