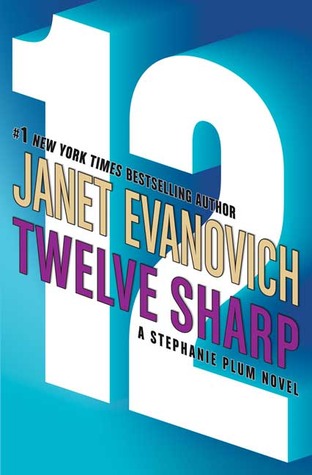 Title: Twelve Sharp
Author: Janet Evanovich
Series: Book Twelve in the Stephanie Plum Series
Published By: St. Martin's (June 2, 2006)
Source: Purchased
Genre: Humor/Mystery
My Rating: 4 Stars!
Book Description:
Welcome to Trenton, New Jersey, where bounty hunter Stephanie Plum's life is about to implode in Janet Evanovich's wildest, hottest novel yet!
FIRST A STRANGER APPEARS
While chasing down the usual cast of miscreants and weirdos Stephanie discovers that a crazed woman is stalking her.
THEN THE STRANGER REVEALS HER SECRETS
The woman dresses in black, carries a 9mm Glock, and has a bad attitude and a mysterious connection to dark and dangerous Carlos Manoso …street name, Ranger.
NEXT, SOMEBODY DIES
The action turns deadly serious, and Stephanie goes from hunting skips to hunting a murderer.
SOON, THE CHASE IS ON
Ranger needs Stephanie for more reasons than he can say. And now, the two are working together to find a killer, rescue a missing child, and stop a lunatic from raising the body count. When Stephanie Plum and Ranger get too close for comfort, vice cop Joe Morelli (her on-again, off-again boyfriend) steps in.
Will the ticking clock stop at the stroke of twelve, or will a stranger in the wind find a way to stop Stephanie Plum…forever? Filled with Janet Evanovich's trademark action, nonstop adventure, and sharp humor, Twelve Sharp shows why her novels have been called "hot stuff" (The New York Times), and Evanovich herself "the master" (San Francisco Examiner).
If there is one thing you can count on with the Stephanie Plum series, it is that you are going to have a laugh until your stomach hurts, good time.
I adore this series. It has it all, tension filled romance, yummy and hilarious side characters that are every bit as hilarious as they are swoon worthy, action, humor, and most of all, it is just freaking fun and one I turn to time and time again.
While this twelve installment is just as funny, just as good as all the others, it is also a little more serious than what we are use to but in a really good way. The stakes are higher, lives are on the line and this time, those lives, are people we know and love.
I can't even begin to tell you how wonderful this was and how it gave me exactly what I needed (a reading pick me up) just when I needed it.
Between crazy Grandma M and Lula who I adore (oh my gosh the rock n' roll band and thongs! Seriously enough said, just read it already!) , and the sexy Ranger and Morelli, this series really does deliver on all counts of fun.
If you haven't tried this series yet and need a lighter but still mystery filled, action packed, humor ridden, heart pounding good time, try this series. I don't think you will be disappointed, at. All.