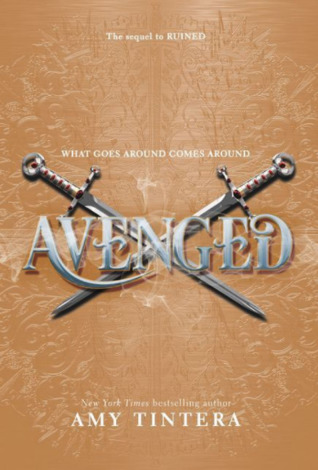 Title: Avenged
Author: Amy Tintera
Series: Book Two in the Ruined Series
Published By: HarperTeen (May 2, 2017)
Source: ARC Copy Provided by the Publisher
(in exchange for an honest review)
Genre: YA Fantasy
My Rating: 4 Stars!
Book Description:
In the sequel to Ruined, the romance of The Selection and the epic stakes of Red Queen come together in a story of revenge, adventure, and unexpected love.
Emelina Flores has come home to Ruina. After rescuing her sister Olivia from imprisonment in rival kingdom Lera, Em and Olivia together vow to rebuild Ruina to its former glory.
But their fight has only begun. Olivia is determined to destroy everyone who acts against Ruina, but Em isn't as sure. Ever since Em posed as Prince Casimir's betrothed in Lera, she's started to see another side to this war. And now that Cas has taken the throne, Em believes a truce is within reach. But Olivia suspects that Em's romantic feelings for Cas are just coloring her judgement.
Em is determined to bring peace to her home. But when winning the war could mean betraying her family, Em faces an impossible choice between loyalty and love. Em must stay one step ahead of her enemies—and her blood—before she's the next victim in this battle for sovereignty.
Once again Tintera takes us on a brutal, bloody, devious ride in this breathtaking sequel to Ruined.
Em and friends are on the run after having finally revealing all their secrets and getting revenge for those that harmed them in the past but if they think their adventure is over then they are so wrong.
We once again see how corrupt Em's world and those in it have become and at the very heart of that corruption, lies those that Em thought she could trust and love.
This was such an unexpected ride. Truly there is so much deception and deceit around every corner, in all kingdoms. It is hard to know who to trust, who you can count on, and who is your friend and worst of all in Em's case, even who to love.
This was a thrilling heart pounding ride and while I thought this series was going to be a duology for some reason, it turns out there is yet another book out there and I couldn't be more excited about it. This truly is a series that will keep you on the edge of your seat and rapidly turning the pages.
*All thoughts and opinions are my own and were not influenced by the author or publisher. I was not compensated for this review.*