It is no secret that I'm a huge fan of Raybourns and her latest series is no exception to that love. Her Veronica Speedwell series has been a pleasant and fun surprise and the latest installment is one of the best yet. Full of fun, intrigue and a hint of romance, it is hard not to be left wanting more.
I'm so excited to be a part of this blog tour and spread the love for this author and this series. If you are a fan of both mystery and historical, you need to read this series!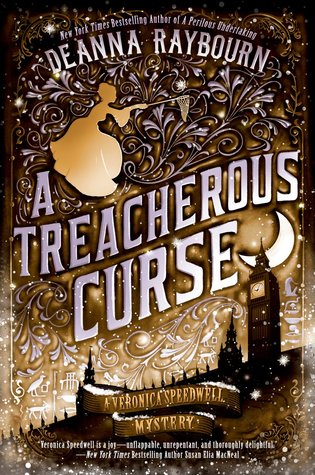 Title: A Treacherous Curse (Book Three in the Veronica Speedwell series)
Author: Deanna Raybourn
Published By: Berkley (January 16, 2018)
Source: ARC Provided by the Publisher in exchange for an honest review
Genre: Historical Fiction/Mystery
Book Description:
Members of an Egyptian expedition fall victim to an ancient mummy's curse in a thrilling Veronica Speedwell novel from the New York Times bestselling author of the Lady Julia Grey mysteries.
London, 1888. As colorful and unfettered as the butterflies she collects, Victorian adventuress Veronica Speedwell can't resist the allure of an exotic mystery—particularly one involving her enigmatic colleague, Stoker. His former expedition partner has vanished from an archaeological dig with a priceless diadem unearthed from the newly discovered tomb of an Egyptian princess. This disappearance is just the latest in a string of unfortunate events that have plagued the controversial expedition, and rumors abound that the curse of the vengeful princess has been unleashed as the shadowy figure of Anubis himself stalks the streets of London.
But the perils of an ancient curse are not the only challenges Veronica must face as sordid details and malevolent enemies emerge from Stoker's past. Caught in a tangle of conspiracies and threats—and thrust into the public eye by an enterprising new foe—Veronica must separate facts from fantasy to unravel a web of duplicity that threatens to cost Stoker everything. . . .
About the Author:
A sixth-generation native Texan, New York Times bestselling author Deanna Raybourn graduated from the University of Texas at San Antonio with a double major in English and history and an emphasis on Shakespearean studies. She taught high school English for three years in San Antonio before leaving education to pursue a career as a novelist. Deanna makes her home in Virginia, where she lives with her husband and daughter.
Sometimes it is easy to forget how much you love two characters until you are immersed back into their world and then all those old feelings and thoughts about them resurface and you remember why this is one of your most favorite series and some of your most favorite people.
Veronica and Stoker are those people for me. This series is just so much fun with the Victorian old world London setting, mystery, and of course the adventures that always await these two. Not to mention the chemistry between them is off the charts.
I would say there is very little romance in this series, if any at all in fact and yet these two have such a passion, such a spark that it is hard to resist reading about them and not sensing it and just waiting for that spark to ignite and set fire to the world.
With nonstop action, mystery and intrigue, this really has become a favorite and a series that is just getting better and better with time. Fans of the genre really need to pick this up, because I can guarantee that this series will be one that will not disappoint.