Simone St. James has quickly become a favorite when I want a story not only rip with mystery and intrigue but one that has some amazing historical detail and settings as well with a slight twist of the paranormal, which is why I'm so excited to be a part of this blog tour because her latest book, The Broken Girls was fabulous and I'm so glad that I read it. I strongly urge you to check it out as well as her other work because it really is fun.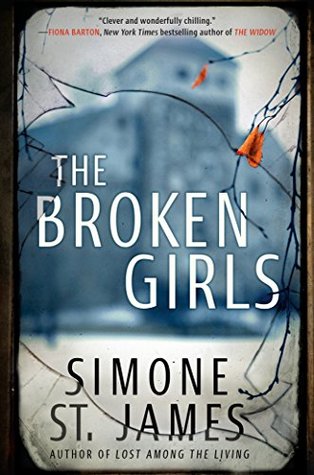 Release Date: March 20, 2018 (Berkley)
Genre: Historical with a Paranormal Edge
Source: ARC Provided by the Publisher in exchange for an honest review.
Book Description:
A breakout suspense novel from the award-winning author of The Haunting of Maddy Clare.
Vermont, 1950. There's a place for the girls whom no one wants--the troublemakers, the illegitimate, the too smart for their own good. It's called Idlewild Hall. And in the small town where it's located, there are rumors that the boarding school is haunted. Four roommates bond over their whispered fears, their budding friendship blossoming--until one of them mysteriously disappears. . . .
Vermont, 2014. As much as she's tried, journalist Fiona Sheridan cannot stop revisiting the events surrounding her older sister's death. Twenty years ago, her body was found lying in the overgrown fields near the ruins of Idlewild Hall. And though her sister's boyfriend was tried and convicted of murder, Fiona can't shake the suspicion that something was never right about the case.
When Fiona discovers that Idlewild Hall is being restored by an anonymous benefactor, she decides to write a story about it. But a shocking discovery during the renovations will link the loss of her sister to secrets that were meant to stay hidden in the past--and a voice that won't be silenced. . . .
About the Author:
Simone St. James is the award-winning author of The Haunting of Maddy Clare, which won two RITA awards from Romance Writers of America and an Arthur Ellis Award from Crime Writers of Canada. She wrote her first ghost story, about a haunted library, when she was in high school, and spent twenty years behind the scenes in the television business before leaving to write full-time. She lives in Toronto, Canada with her husband and a spoiled cat.
Not only is The Broken Girls beautifully haunting but it is beautifully written. The kind of story that can both put goose bumps on your arms and tears in your eyes. It keeps you guessing, it keeps you reading, it keeps your attention and more than anything else, it leaves you wanting more by the end.
This story is so complex in its simplicity. It is about a time when women, when girls, still didn't have a voice and were looked down upon and controlled by those both older than them and of a different gender.
It deals with grief, in all its ugly shapes, sizes and forms and makes the outcome of it all so very touching, so very wonderful in it's power of those lost girls coming together and forming their own family, their own destiny, and most of all, not sitting by and letting other dictate who and what they were suppose to be.
Told in alternating times and point of views, this was so easy to fall into. Into the story, into the mystery and into the lives of these five girls who couldn't be more different from one another in almost every way imaginable.
With a blend of historical, mystery and a slight paranormal edge, this really was a read that stood out and will be one for everyone.