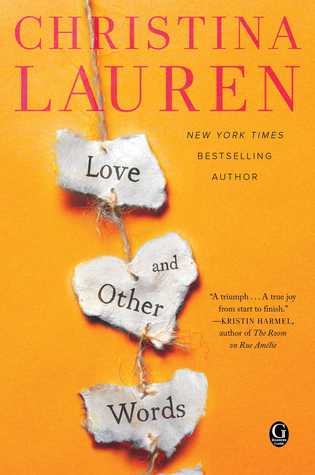 Title: Love and Other Words
Author: Christina Lauren
Series: Stand Alone
Genre: Contemporary Fiction
Published By: Gallery Books (April 10, 2018)
Source: ARC Provided by the Publisher
(in exchange for an honest review)
My Rating: 4.5 Stars!
Book Description:
Love, loss, friendship, and the betrayals of the past all collide in this first women's fiction novel from New York Times and #1 international bestselling author Christina Lauren (Autoboyography, Dating You / Hating You).
The story of the heart can never be unwritten.
Macy Sorensen is settling into an ambitious if emotionally tepid routine: work hard as a new pediatrics resident, plan her wedding to an older, financially secure man, keep her head down and heart tucked away.
But when she runs into Elliot Petropoulos—the first and only love of her life—the careful bubble she's constructed begins to dissolve. Once upon a time, Elliot was Macy's entire world—growing from her gangly bookish friend into the man who coaxed her heart open again after the loss of her mother...only to break it on the very night he declared his love for her.
Told in alternating timelines between Then and Now, teenage Elliot and Macy grow from friends to much more—spending weekends and lazy summers together in a house outside of San Francisco devouring books, sharing favorite words, and talking through their growing pains and triumphs. As adults, they have become strangers to one another until their chance reunion. Although their memories are obscured by the agony of what happened that night so many years ago, Elliot will come to understand the truth behind Macy's decade-long silence, and will have to overcome the past and himself to revive her faith in the possibility of an all-consuming love.
I'm so ashamed to admit that this is my first Lauren book and I can honestly say after finishing this, in almost one sitting mind you, what in the heck was I waiting for?
Romance books, heck the genre in general has so not been my thing lately but I saw the description for this and something resonated with me so I picked it up and consequently, barely set it down again.
I was completely and utterly captivated by it from the very first page.
This story. This friendship, this....everything.
I don't even have words to describe how much I am in love with Elliot and Macy. With this book. With their story. Their passion and friendship. Their love and heartache. Their loses and tragedies and their strength and resilience. I just want to thumb through the book again and absorb it all over. It experience it all over again, one emotion at a time.
It was so good. So meaningful and yes, romance and all, exactly and everything, I needed.
*All thoughts and opinions are my own and were not influenced by the author or publisher. I was not compensated for this review.*