Who doesn't love a good twisted mystery that will keep you on your toes? Our House is just the story for a weekend getaway or when you can to sit in your favorite spot and be entertained for a few hours. Either way, any place, this is one story that will keep you on edge until the very end.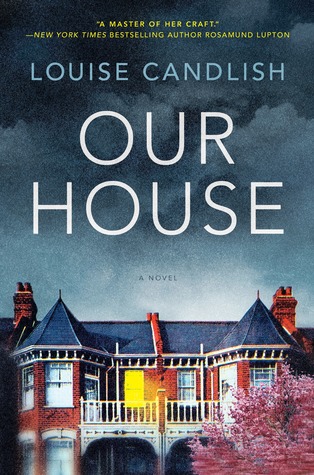 Title: Our House
Author: Louise Candlish
Published By: Berkley (August 7, 2018)
Genre: Mystery/Thriller
Book Description:
On a bright January morning in the London suburbs, a family moves into the house they've just bought in Trinity Avenue.
Nothing strange about that. Except it is your house. And you didn't sell it.
When Fiona Lawson comes home to find strangers moving into her house, she's sure there's been a mistake. She and her estranged husband, Bram, have a modern co-parenting arrangement: bird's nest custody, where each parent spends a few nights a week with their two sons at the prized family home to maintain stability for their children. But the system built to protect their family ends up putting them in terrible jeopardy. In a domino effect of crimes and misdemeanors, the nest comes tumbling down.
Now Bram has disappeared and so have Fiona's children. As events spiral well beyond her control, Fiona will discover just how many lies her husband was weaving and how little they truly knew each other. But Bram's not the only one with things to hide, and some secrets are best kept to oneself, safe as houses.
About the Author:
Louise Candlish studied English at University College London and worked as an editor and copywriter before writing fiction. OUR HOUSE is published in the US by Berkley in August 2018 and is out now in the UK, published by Simon & Schuster.
Louise is the bestselling author of eleven previous novels, including THE SWIMMING POOL and THE SUDDEN DEPARTURE OF THE FRASERS (Penguin, 2015), which has been optioned for TV by Hartswood Films.
Louise lives in South London with her husband and daughter.
Both intriguing and mysterious, Our House will have you hooked from the very first devastating chapter. Caught up in what already promises to be an enticing tale of deceit and deception.
Told through the POV of both Fi and Bram and through email and podcast, the tale of how well do you really know the one you are married to will have you hooked and turning the pages as fast as you can.
Brilliantly weaved as the plot slowly unfolded, Our House was a story that kept me entertained the whole way through.
*All thoughts and opinions are my own and were not influenced by the author or publisher. I was not compensated for this review.*