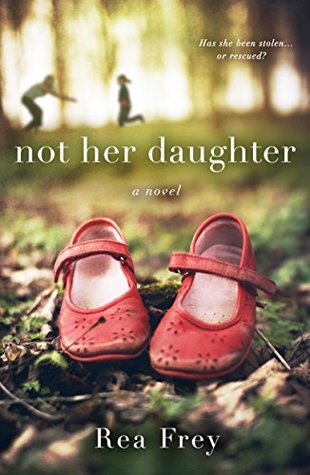 Title: Not Her Daughter
Author: Rea Frey
Series: Stand Alone
Genre: Women's Fiction
Published By: St. Martin's Griffin (August 21, 2018)
Source: ARC Provided by the Publisher
(in exchange for an honest review)
My Rating: 4 Stars!
Book Description:
Emma Grace Townsend. Five years old. Gray eyes. Brown hair. Missing since June.
Emma Townsend is lonely. Living with her cruel mother and clueless father, Emma retreats into her own world of quiet and solitude.
Sarah Walker. Successful entrepreneur. Broken-hearted. Abandoned by her mother. Kidnapper.
Sarah has never seen a girl so precious as the gray-eyed child in a crowded airport terminal—and when a second-chance encounter with Emma presents itself, Sarah takes her, far away from home. But if it's to rescue a little girl from her damaging mother, is kidnapping wrong?
Amy Townsend. Unhappy wife. Unfit mother. Unsure she wants her daughter back.
Amy's life is a string of disappointments, but her biggest issue is her inability to connect with her daughter. And now she's gone without a trace.
As Sarah and Emma avoid the nationwide hunt, they form an unshakeable bond. But her real mother is at home, waiting for her to return—and the longer the search for Emma continues, Amy is forced to question if she really wants her back.
Emotionally powerful and wire-taut, Not Her Daughter raises the question of what it means to be a mother—and how far someone will go to keep a child safe.
About the Author:
Rea Frey is the author of four nonfiction books. Her debut novel, NOT HER DAUGHTER, will be released by St. Martin's Press August 21, 2018.
When she's not exercising, mothering, adulting, wifing, eating, or writing about herself in the third person, you can find her hard at work on her next book and ghostwriting for other people.
Not Her Daughter is one of those stories that is both remarkable and unforgettable while at the same time being completely heartbreaking and questionable.
The events that transpire are both horrifying and yet weirdly understandable as we get to peek inside the head of one woman who does something truly horrific but for a good cause. Coming from a woman that has children of her own, it is so very hard to put into word how I feel about it all.
Was it kindness or selfishness?
Was it one woman's struggle with her past heartbreak and loneliness or was it one woman's need to help and rescue a little girl that needed it most?
Not Her Daughter is an emotionally charged story that will not only have you siding with Sarah and what she did but also, weirdly enough, have you feeling for Emma's mother Amy as well.
Told in dual POVs of both Sarah and Amy and both from the past and present, Not Her Daughter is one story you can't help but be captivated by as you journey through both their pasts, heartaches and disappointments, all while rooting for what is best for Emma along the way.
Truly a stunning novel that will take your breath away and take you by surprise.
*All thoughts and opinions are my own and were not influenced by the author or publisher. I was not compensated for this review.*