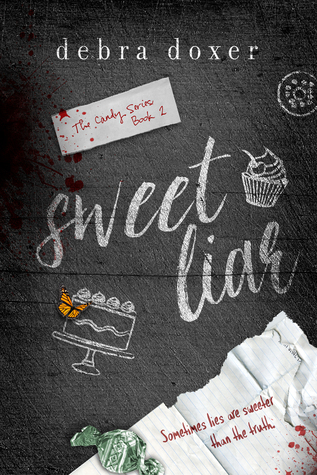 Title: Sweet Liar
Author: Debra Doxer
Series: Book Two in the Candy Series
Published: October 2, 2015
Source: ARC Copy Provided by the Author
(in exchange for an honest review)
Genre: YA Mystery
My Rating: 4 Stars!
Book Description:
Sometimes lies are sweeter than the truth.
Beauty is alluring; it can disguise the ugliness beneath. But scarred beauty is even more potent to a girl who vowed never to let her heart be broken again. It was an easy vow for Candy to keep until she met Jonah, an arrogant boy with a face that would be too perfect if not for the scar that marred the skin beside his eye.
That imperfect boy earned her trust and won her heart, but the ties that bind people together are fragile, especially when lies are told. Trust is also fragile, and once broken, doesn't heal like a heart. Trust has to be earned again, and Jonah desperately wants Candy's trust back.
But Candy has more than Jonah to worry about. Her father is in trouble, and she intends to help him whether he likes it or not. People tell her he's a bad man, and that may be true, but he's not all bad. Deep down, she understands his brand of badness because she's so much like him.
When Candy finally learns the truth, she'll have to grow up fast, let go of old grievances, and realize that being vulnerable doesn't make her weak. In fact, opening herself up may be the very thing that makes her whole again.
Doxer has always amazed me with her writing ability and the wonderful, imaginative stories that she creates so it was no wonder that I found this second installment in the Candy series so fabulous.
If some of you recall that read my review for Like Candy, I had some reservations about the main character. I loved the story but at times Candy was childish and jumped to conclusions way too often and even though I really liked her by the end of the story, I still wasn't completely in love with her character.
I love it when an author can make me do a 360 and completely change my mind about someone. Not only did she change my mind about Candy, but she also made me rethink my opinion about every character since the ending of book one.
Truly this was so much fun. It has so much more to it that I couldn't help by be sucked right back into the story for a second time, and this time, I loved everyone, well, not everyone, but most of them.
Candy grew up a lot in so many ways that it was refreshing to see and not only did it make me like her more because of it, but I actually really started caring about her as well.
This was a fabulous second installment and I'm really hoping there will be more books in the series because I think it would be so much fun to continue to watch Candy grow and evolve into the person she wants to be.
*All thoughts and opinions are my own and were not influenced by the author or publisher. I was not compensated for this review.*
Don't Forget to check out Heidi's guest post today with author J.L. Bryan and his Ellie Jordan Ghost Trapper series. I adore this series and it is absolutely perfect for this time of year and this event!