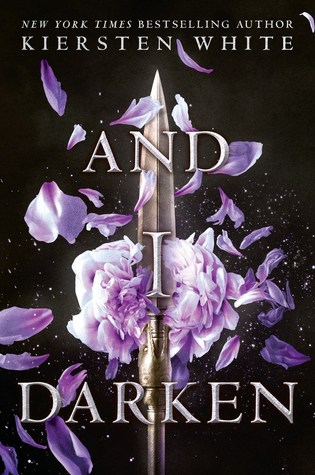 Title: And I Darken
Author: Kiersten White
Series: Book One in the Conquerors Saga
Published By: Delacorte (June 28, 2016)
Source: ARC Copy Provided by the Publisher
(in exchange for an honest review)
Genre: YA Historic Retelling
My Rating: 4 Stars!
Book Description:
NO ONE EXPECTS A PRINCESS TO BE BRUTAL.
And Lada Dragwlya likes it that way. Ever since she and her gentle younger brother, Radu, were wrenched from their homeland of Wallachia and abandoned by their father to be raised in the Ottoman courts, Lada has known that being ruthless is the key to survival. She and Radu are doomed to act as pawns in a vicious game, an unseen sword hovering over their every move. For the lineage that makes them special also makes them targets.
Lada despises the Ottomans and bides her time, planning her vengeance for the day when she can return to Wallachia and claim her birthright. Radu longs only for a place where he feels safe. And when they meet Mehmed, the defiant and lonely son of the sultan, who's expected to rule a nation, Radu feels that he's made a true friend—and Lada wonders if she's finally found someone worthy of her passion.
But Mehmed is heir to the very empire that Lada has sworn to fight against—and that Radu now considers home. Together, Lada, Radu, and Mehmed form a toxic triangle that strains the bonds of love and loyalty to the breaking point.
From New York Times bestselling author Kiersten White comes the first book in a dark, sweeping new series in which heads will roll, bodies will be impaled . . . and hearts will be broken.
ˈan(t)ēˌhirō,ˈan(t)īˌhirō/
1. a central character in a story, movie, or drama who lacks conventional heroic attributes.
There is something appealing, something captivating about a hero that really isn't a hero at all. About a person that can be both so very cruel and dark, as they can be caring and strong.
An almost anti-hero of a story that is every bit as hard to hate as they are hard to love.
Throw in a legend we have all heard of, Vlad Draculesti (The Impaler) with a slight twist on the story and you have one story that appealed to both the history nerd in me and the one that craves adventure and a strong heroine.
Our fierce, strong, and mostly scary Vlad is none other than Lada. Yes Lada, as in, a girl. Throw in a bit of history, a bit or truth, a bit of fiction and you have one heck of a story line with an anti-hero that lives up to every bit of the definition itself.
This book brought out some very real, very intense momma bear feelings in me. Part of me was so proud of Lada for never wavering in her beliefs and at the same time also brought out some intense protective feelings for Radu and all that he had to endure at the hands of virtually everyone.
I couldn't of loved this story more with holding on to the real feel of the story with the sultan and his harem as well as all the fiction and adventure. It truly was unlike anything I have read in the genre and I'm so very excited to see how else White will exaggerate and expand on it.
*All thoughts and opinions are my own and were not influenced by the author or publisher. I was not compensated for this review.*