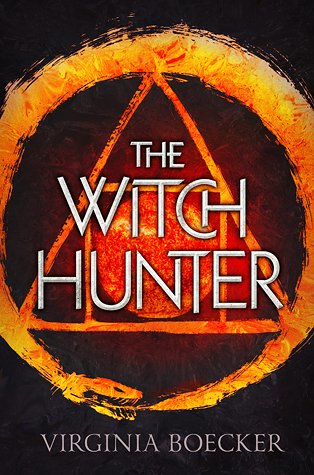 Title: The Witch Hunter
Author: Virginia Boecker
Series: Book One in the Witch Hunter duology
Published By: Little Brown Books For Young Readers (June 2, 2015)
Source: Purchased
Genre: YA Fantasy
My Rating: 4 Stars!
Book Description:
The magic and suspense of Graceling meet the political intrigue and unrest of Game of Thrones in this riveting fantasy debut.
Your greatest enemy isn't what you fight, but what you fear.
Elizabeth Grey is one of the king's best witch hunters, devoted to rooting out witchcraft and doling out justice. But when she's accused of being a witch herself, Elizabeth is arrested and sentenced to burn at the stake.
Salvation comes from a man she thought was her enemy. Nicholas Perevil, the most powerful and dangerous wizard in the kingdom, offers her a deal: he will save her from execution if she can break the deadly curse that's been laid upon him.
But Nicholas and his followers know nothing of Elizabeth's witch hunting past--if they find out, the stake will be the least of her worries. And as she's thrust into the magical world of witches, ghosts, pirates, and one all-too-handsome healer, Elizabeth is forced to redefine her ideas of right and wrong, of friends and enemies, and of love and hate.
Virginia Boecker weaves a riveting tale of magic, betrayal, and sacrifice in this unforgettable fantasy debut.
This book has been on my must read list since it first started showing up in reviews when the advanced readers copies were out and everyone was raving about it. I just knew I needed to make time for it. With the second book being released any day I decided now was the time to finally see what all the fuss was about.
Anyone who knows me, knows that it is almost virtually impossible for me to resist a good witchy read and that, more than anything else, is what drew me to pick this up.
I'm so glad that I did because I was immediately drawn right into the story. If there is a second thing that lures me in besides a good tale full of magic and witchcraft, it is a strong heroine who knows how to kick a little butt and stand up and take charge and that is exactly who Elizabeth Grey, our heroine of the story is.
I won't go into to much detail about what happens but I will say that I was pleasantly surprised with how easy it was to get caught up in the story line and want to learn more about this world that Elizabeth lived in. And the secondary characters were every bit as fun and interesting as the rest.
No this wasn't some mind blowing read or even anything that maybe hasn't been done before but it still captured my attention and left me turning the pages and wanting more and most of all, I had a great time while doing it.
I really look forward to seeing the conclusion to this story and it will be high on my must read and finish list this summer.