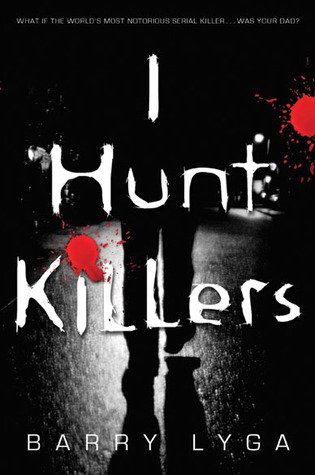 Title: I Hunt Killers
Author: Barry Lyga
Series: Book One in the Jasper Dent Trilogy
Published By: Little Brown (April 22, 2012)
Source: Purchased
Genre: YA Thriller
My Rating: 5 Stars!
Book Description:
What if the world's worst serial killer...was your dad?
Jasper "Jazz" Dent is a likable teenager. A charmer, one might say.
But he's also the son of the world's most infamous serial killer, and for Dear Old Dad, Take Your Son to Work Day was year-round. Jazz has witnessed crime scenes the way cops wish they could—from the criminal's point of view.
And now bodies are piling up in Lobo's Nod.
In an effort to clear his name, Jazz joins the police in a hunt for a new serial killer. But Jazz has a secret—could he be more like his father than anyone knows?
There are few YA books not only told in the point of view of a boy, but a boy like Jasper Dent, who's father was a notorious serial killer and since birth, was raised to be one as well.
I can't even begin to tell you how amazing this book was. From the writing, to the execution, down to the very characters themselves, you never knew what was what. Was Jasper (Jazz) just like his father or was he different? Was he just a boy trying to be good or a killer waiting to break out of his shell and become what he was so lovely trained and conditioned to be?
I loved every heart pounding moment of this story and the very characters themselves.
If you are looking for something completely off the charts, completely unlike anything in the YA genre, a thriller that will leave you begging for more, your heart pounding and slightly disgusted with just how very much you loved all the horrifying events, this is a series you must try.