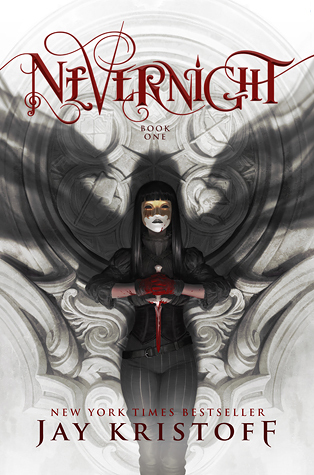 Title: Nevernight
Author: Jay Kristoff
Series: Book One in the Neverknight Chronicles
Published By: Thomas Dunne Books (August 9, 2016)
Source: ARC Copy Provided by the Publisher
(in exchange for an honest review)
Genre: Fantasy
My Rating: 2.5-3 Stars
Book Description:
The first in a new fantasy series from the New York Times bestselling author.
In a land where three suns almost never set, a fledgling killer joins a school of assassins, seeking vengeance against the powers who destroyed her family.
Daughter of an executed traitor, Mia Corvere is barely able to escape her father's failed rebellion with her life. Alone and friendless, she hides in a city built from the bones of a dead god, hunted by the Senate and her father's former comrades. But her gift for speaking with the shadows leads her to the door of a retired killer, and a future she never imagined.
Now, Mia is apprenticed to the deadliest flock of assassins in the entire Republic—the Red Church. If she bests her fellow students in contests of steel, poison and the subtle arts, she'll be inducted among the Blades of the Lady of Blessed Murder, and one step closer to the vengeance she desires. But a killer is loose within the Church's halls, the bloody secrets of Mia's past return to haunt her, and a plot to bring down the entire congregation is unfolding in the shadows she so loves.
Will she even survive to initiation, let alone have her revenge?
Nevernight was high on my must read, definitely can't wait to get my hands on reads for 2016 and also being my first Kristoff book, I was super excited to dive in and see what this author's work was all about.
Not knowing ever what to expect from this genre, only added to the excitement and the anticipation.
I can say, without a doubt, that this book took me by surprise. It was most definitely unlike anything else I have read or seen in young adult fantasy.
Vulgar, explicit, and not something I would classify as young adult by any stretch of the imagination, Kristoff knocked me flat on my back with the severity and darkness of his writing.
If you can get past the udder shock of getting something unexpected and not at all in the YA norm, and see the writing for what it is, absolutely brilliant, this is actually a good read. If, you can get past the initial shock of language, sex, and bloodshed.
I wish I could say that I loved this but I didn't. I did like it though but the writing while, brilliant, could also be disjointed and confusing at times as the story switched back and forth from the past to the present to the now and the shadows.
I can see a lot of people loving this and a lot of people being thrown off like I was but still liking it nonetheless.
*All thoughts and opinions are my own and were not influenced by the author or publisher. I was not compensated for this review.*