I can't even begin to express my love for CoHo, she is one of the few authors in her genre I still eagerly await each new book and can't wait to get my hands on. Her books never cease to bring out the best and worst emotions in me and her latest and greatest, is by far a new favorite of mine. You guys have to read this one, it is so worth all the heartache and tears and smiles and laughs. If you haven't already check out the books website, it is awesome and best of all, the book releases today so go grab your copy now, you won't regret it!
http://www.itendswithusbook.com/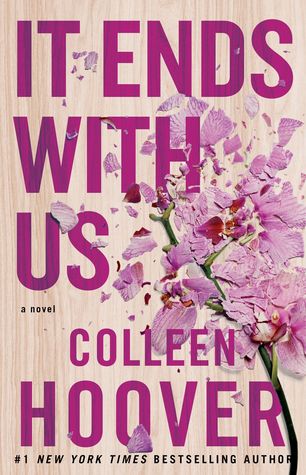 "Colleen Hoover reminds readers that love is a fragile thing, built from courage, hope, and tears. Every person with a heartbeat should read this book."
– Kami Garcia, #1 New York Times bestselling author
Published By: Atria Books (August 2, 2016)
Book Description:
Lily hasn't always had it easy, but that's never stopped her from working hard for the life she wants. She's come a long way from the small town in Maine where she grew up. She graduated from college, moved to Boston, and started her own business. So when she feels a spark with a gorgeous neurosurgeon named Ryle Kincaid everything in Lily's life suddenly seems almost too good to be true.
Ryle is assertive, stubborn, and maybe even a little arrogant. He's also sensitive, brilliant and has a total soft spot for Lily; and the way he looks in scrubs certainly doesn't hurt. Lily can't get him out of her head, but Ryle's complete aversion to relationships is disturbing. Even as Lily finds herself becoming the exception to his no dating rule, she can't help but wonder what made him that way in the first place.
As questions about her new relationship overwhelm her, so do thoughts of Atlas Corrigan, her first love and a link to the past she left behind. He was her kindred spirit, her protector. When Atlas suddenly reappears everything Lily has built with Ryle is threatened.
With this bold and deeply personal novel Colleen Hoover delivers a heart-wrenching story that breaks exciting new ground for her as a writer. Combining a captivating romance with a cast of all too human characters, "It Ends with Us" is an unforgettable tale of love that comes at the ultimate price.
About the Author:
Colleen Hoover is the #1 New York Times bestselling author of Slammed, This Girl, Point of Retreat, Hopeless, Losing Hope, Finding Cinderella, Maybe Someday, Ugly Love, Maybe Not, and Confess. She lives in Texas with her husband and their three boys. Please visit ColleenHoover.com.
FIND COLLEEN ONLINE:
Website: www.ColleenHoover.com
Facebook: www.Facebook.com/ColleenHoover
Twitter: @ColleenHoover
Instagram: @ColleenHoover
I don't know when I will ever learn not to pick up a CoHo book right before bed. It never fails, they always suck me in and before I know it, it is four in the morning and I have had no sleep at all, but dang it if it isn't worth it.
I should also learn to never declare a favorite because it happens ever time. I declare a favorite, a new release comes out and I have another new favorite all over again.
All of CoHo's books are emotional. They always pack a punch and even though I knew to expect that going into this, I just wasn't prepared for how much of a punch it would really deliver. It was raw and emotional and even after you finish it when you think all the feels have been dealt out, you read her author's note and it floods them all in once again.
I wanted to be upset and angry and the people I was suppose to be angry and upset with but the fact of the matter is this, I loved ever. Single. One. Of. Them. Good or bad, faults and all. It was so very hard not to just feel.
It has been hours since I have put this book down and I am still thinking about it, still reeling from it, and still very much in love with it.
There wasn't a single thing I didn't love about it, even the horrible heart wrenching make me teary eyed and ugly cry, parts. It was all just so beautifully portrayed and delivered. All so wonderfully searing and memorable. It is a story that will truly stay with me for a very long time and one that I will be re-reading in the future.
*An ARC Copy was provided by the publisher in exchange for an honest review.*
a Rafflecopter giveaway